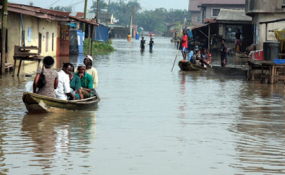 Photo: Vanguard
By Omeiza Ajayi
The National Emergency Management Agency NEMA has declared National Disaster in the five states of Adamawa, Taraba, Rivers, Kebbi and Bayelsa following a devastating flood that ravaged the states.
The declaration was contained in a statement issued Thursday in Abuja and signed by the Head, Media and Public Relations of the agency, Sani Datti. "This has brought to nine the number of states under national disaster caused by the flood devastation. Other four states earlier declared on 17/09/2018 were Niger, Kogi, Anambra and Delta", he recalled. He said the Director General of NEMA, Engr. Mustapha Maihaja made the declaration in consideration of the data and information being received, in particular the Preliminary Damage Assessment PDA and guided by relevant NEMA Policy documents.
He said the five states are observed to have been impacted severely by the disaster. "On the consultation, subsequent endorsement of all the stakeholders here present, and the delegation of Authority conferred on me by the President and Commander-in-Chief of the Armed Forces of the Federal Republic of Nigeria, I, Eng. Mustapha Yunusa Maihaja the Director General, National Emergency Management Agency (NEMA) hereby declared National Disaster in the five (5) states of Adamawa, Bayelsa, Kebbi, Rivers and Taraba. "I once again commend the efforts and commitments of all stakeholders, and the International Partners for their contribution so far to the success of this operation.
This is highly appreciated. "Finally, the addition of the five states declared expands the scope and the needs for the response and therefore called for more support accordingly", the statement quoted the DG to have said.