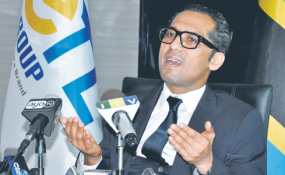 Photo: The Citizen
By Zephania Ubwani News@tz.nationmedia.com
Arusha — Abducted Tanzanian billionaire Mohamed Dewji was expected to grace a graduation ceremony at his former school in Arusha today.
Posters on major roads in Arusha indicated the owner of MeTL was to be the chief guest.
Mr Dewji, who was kidnapped by unknown people at Colloseum Hotel in Dar es Salaam early on Thursday, was a primary school pupil there in the 1980s.
"Yes, he was our pupil here and completed studies in 1987," an official of the school told The Citizen on phone Saturday afternoon.
He said Dewji, arguably the richest man in Tanzania and ranked the 17th in Africa, had confirmed to participate in the event.
"We were communicating with him regularly to prepare for the event," explained the official who spoke on condition of anonymity.
He could not be reached to explain if the ceremony would go ahead today and who would replace Mr Dewji as the chief guest. MeTL was to be one of the sponsors of the event.
Arusha School, located a few metres from the famous Clock Tower, is government owned but used to be a primary school for the children of elite until recent years.
Originally it was opened as a private co-educational school for European children but was taken over by the government in 1972.
The school educates pupils from nursery to primary 7 and is both a boarding and day school.
Other school officials reached declined to discuss the graduation ceremony. One of them only quipped; "Unfortunately, we are tied up in a number of things. We will call you."
At a time the search has been intensified on the whereabouts of the business mogul, one of his friends in Dar es Salaam said it was not the first time a gym member has been abucted.