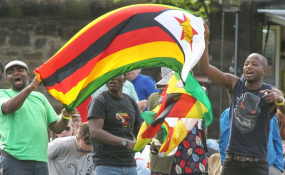 Photo: New Zimbabwe
By Timothy Olobulu
Nairobi — Paul Murunga of Homeboyz RFC was on Friday appointed the Kenya Sevens head coach on a one-year contract ahead of the 2018/19 season, replacing Innocent Simiyu, the Kenya Rugby Union announces.
Kevin 'Bling' Wambua of Mwamba RFC will be the assistant coach, Geoffrey Kimani retains his position as the Strength and Conditioning while Lameck Bogonko also remained as the team physio.
KRU said negotiations are still going on for the Team Manager's position.
Murunga, who guided Homeboyz RFC to the 2018 National Sevens Series title, returns back to the Kenya Sevens technical bench this time as a boss after playing the role of assistant during the Benjamin Ayimba era.
He was in the technical bench that guided Kenya to its historic first ever Main Cup title in 2016.
Kenya Rugby Union acting CEO Sylvia Kamau said, "We acknowledge Kevin has had a great input in the team, he will handle the team at Dubai Sevens. we acknowledge the games of men and women will be on two different teams, he will manage by January we will come to a conclusion whether we will get a new coach for the women or not."
On players contracts she said;
"we will contract the players by then when the new coming coach will look at the team and make a decision on who he needs to contract," she declared.
-More to follow-
A lover of sports who seeks to tell the African story in an African way. Top ten finalist of the Abu Dhabi Sports Media Pearl Awards. Be it on the pitch, court, track, pool or course, the story will be told. On twitter @KakaTimm