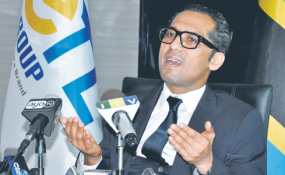 Photo: The Citizen
Dar es Salaam — Mr Mohammed Dewji's abductors reportedly took less than 30 seconds to kidnap him from a Dar es Salaam hotel last week.
The whereabouts of Mr Dewji were still unknown yesterday, three days after he was abducted by unidentified people.
The 43-year-old businessman was abducted at 5am on Thursday, and police said yesterday that 26 people had been questioned as part of the investigation into the incident.
According to reports from the hotel, it took between 20 and 30 seconds for the abductors to seize Mr Dewji at the parking lot and bundle him into their vehicle before speeding away.
Eyewitnesses revealed to The Citizen that there were three abductors, but only two disembarked from the vehicle to seize Mr Dewji.
Police said the abductors had two vehicles which were involved in the incident, of which one was parked outside the hotel premises and the other in the parking lot.
"When Mr Dewji's vehicle arrived at the scene, the occupants of the vehicle which was parked inside switched on its headlights to alert their accomplices who were outside, who then drove inside and parked their car next to Mr Dewji's. They alighted, grabbed him before bundling him into their car," police said.
After kidnapping Mr Dewji, the abductors fired in the air before leaving the hotel premises with him using another exit gate, which was earlier shut.
Although earlier reports claimed that the abductors were white males, eyewitnesses said all abductors wore masks and spoke English.
What Minister Kangi Lugola said
Home Affairs minister Kangi Lugola has said Mr Dewji's kidnapping is among 75 abductions reported to the police over the last three years.
He also confirmed the arrest of 26 people who were being interrogated in connection with the incident, which has sparked intense media interest both locally and internationally.
Mr Lugola directed police to release all arrested people who will not be directly or indirectly linked with the investigation.
He said Mr Dewji was still missing, but added that security organs were continuing with investigations and people should remain calm and allow the government and its agencies to do their work.
"Our President is committed to protecting Tanzanians and their property. You should not point a finger at us and ask why we have put more effort into Mr Dewji's abduction than other similar incidents," he said.
Some of the Tanzanians who have disappeared mysteriously in recent months include Chadema cadre Ben Saanane, Mwananchi Commnunixations Limited journalist Azory Gwanda and Kibondo District Council chairman Simon Kanguye.
Update by Special Police Zone Commander
The number of people arrested in connection with the disappearance of Mr Dewji has reached 26, according to Dar es Salaam Special Police Zone Commander Lazaro Mambosasa.
However, he did not name them as investigations were still going on.
Mr Mambosasa confirmed yesterday that another six suspects were arrested on Saturday in addition to the 20 suspects who were arrested a day after the incident.
Mr Mambosasa said the arrested people, including Mr Haji Manara, spokesperson of Simba Sports Club, in which Mr Dewji has a 49 per cent stake, were being interrogated as part of investigations.
Police said they were continuing with an intensive search at all entry and exit points, as earlier reports claimed that Mr Dewji was abducted by two white people, whose nationality is still a mystery.
"The investigation is ongoing and we will continue to arrest and interrogate people as we seek to get to the bottom of the matter," he said.
"We have arrested 26 people until today (Sunday). Arrests are likely to continue as part of our investigations."
Colesseum Hotel workers revealed to The Citizen that their supervisors have been arrested by police as part of investigations.
Victim of abduction speaks out
Mr Ramadhani Juma, popularly known as P Square, a beach attendant at Coco Beach in Dar es Salaam, said he was abducted in June this year during Idd ul Fitr celebrations and was freed after one week.
"I was abducted during Idd. It was on Thursday evening when kidnappers came in a vehicle, and took me to an unknown place where I was tortured. I screamed for help but they continued beating me, pointing a gun at me, and accusing me of being a gangster," he told The Citizen yesterday.
Reported by Elias Msuya, Kelvin Matandiko, Khatimu Naheka and Mnaku Mbani
He said he saw so many people were also abducted and during the time he was released, they were other two who were also released.
Report by Elias Msuya, Kelvin Matandiko, Khatimu Naheka and Mnaku Mbani
00351682_28f5af6cc7bd6934d2768b542d27964b