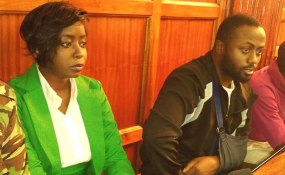 Photo: Capital FM
By Sam Kiplagat
Journalist Jacque Maribe and her fiancé Joseph Irungu alias Jowie have denied killing Monica Kimani
In the case at the High Court in Nairobi, the suspects' lawyers have sought to have the two suspects released on bail pending the hearing and determination of the case.
Ms Maribe's lawyer has asked the court to accelerate the mention since the suspects have been in custody for long.
The couple has spent at least three weeks in remand since their arrest following the murder of the businesswoman on the night of September 19. Mr Irungu was the first to be arrested on September 24 while his fiancée was arrested five days later.
On Monday, Secretary of Digital Innovation and Diaspora in the Office of the President Dennis Itumbi was in court to show moral support to Ms Maribe.
Hours earlier, Mr Itumbi posted an emotional tweet to assure Ms Maribe that "justice will be done".
It has always been said and I agree that, "The arc of the moral universe is long, but it bends towards justice."
Though it tarries, be sure that Justice will be done my dear friend Jacque Maribe
So shall it be done for Monica and Family.
So, graciously hear me Lord. Good Week
- Dennis Itumbi, HSC (@OleItumbi) October 15, 2018