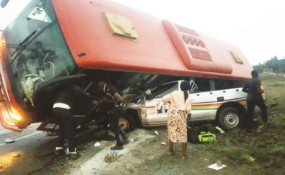 Photo: The Herald
By Freedom Mupanedemo
Zanu-PF Midlands Provincial vice chairman Cde Goodwill Shiri was killed in road accident yesterday evening after a bus, which was trying to avoid hitting stray donkeys, landed on top of his car.
A female passenger, who was travelling in Cde Shiri's vehicle was rushed to Gweru Provincial Hospital while several passengers from the bus sustained minor injuries.
The incident occurred just outside Gweru, near Gwenoro Turn-off along the Gweru-Bulawayo Road around 6 30 pm.
Cde Shiri who was driving a branded party vehicle was travelling towards Bulawayo on the way to his farm.
When The Herald news crew arrived at the scene, firefighters were trying to retrieve Cde Shiri's body which was still trapped in the car under the bus.
Some senior Zanu-PF officials led by the party's provincial spokesperson Cde Cornelius Mupereri had also arrived at the scene. Cde Shiri was pronounced dead on the spot. Cde Mupereri said Zanu-PF had been robbed of a hardworking man.
"I am still in shock, I can't believe that Cde Shiri is gone. It's shocking, and unthinkable, losing a hardworking cadre under such circumstances is saddening," he said.
Witnesses interviewed said the driver of the bus branded "Boss Petso" was trying to avoid hitting a donkey when he swerved into oncoming traffic.
"He then lost control of the bus and hit an oncoming car before landing on top of the car. We quickly got out of the bus and tried to save the driver of the pickup truck who was trapped under the bus but we could not save his life," said Mr Pardon Nkomo who was travelling in the bus.