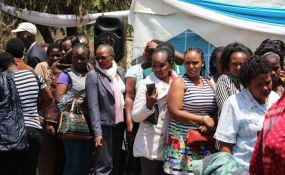 Photo: The Nation
By Aggrey Omboki
One in four Kenyan women of reproductive age suffer from iron deficiency, a new government report shows.
The joint assessment report on adolescent nutrition policy and programming shows that micronutrient deficiencies, particularly zinc, iron, and vitamin A, are highly prevalent in Kenya.
"We are committed to doing more to make access to healthy diets and safe nutrition easier," said Dr Miriam Sidibe, Unilever's Hygiene and Nutrition Social Mission Director Africa.
SIMPLE MEAL
Dr Sidibe, a senior fellow at Mossavar-Rahmani Centre for Business and Government at the Harvard Kennedy School, said malnutrition affects one in three people globally and one in two people in Africa, adding that it also included obesity and being overweight.
The scientist, who was speaking at a World Food Day event in Nairobi on Wednesday, said there is need for Kenyans to know the best foods to include in their diet for maximum iron intake. She listed sukuma wiki as a rich source of iron that should be eaten regularly.
World Food Day is celebrated annually on October 16 and this year's focus is a drive towards achieving zero hunger and eliminating malnutrition. "We know that the higher cost of nutritious foods explains why food insecure families are at a higher risk of iron deficiency. Through this campaign, we wanted to show them that even the simplest and most readily available meals, such as sukuma wiki, can have added nutritional value when mixed with iron-rich foods such as spinach. Changing consumer tastes are critical to the direction our food system takes," she said.
She said companies could take advantage of their market presence to encourage consumers to choose a diet rich in vegetables to eliminate iron deficiency. "Big brands have a role to play by ensuring they trigger consumer demands for sustainable nutritious foods. The private sector can change our cooking habits and transform the entire food system by encouraging millions of women to add more leafy vegetables to their diet when preparing meals for families since they are most affected by iron deficiency," said Dr Sidibe.
ANAEMIA RATES
"Varied diets improve human health and benefit the environment through production systems that encourage more sustainable use of resources. As a brand, we have the power to start a movement to effect this change, through our millions of consumers in Kenya," she added.
Among the vulnerable segments of the population, the report shows that iron deficiency is the highest contributor to the high anaemia rates, meaning that the poorest Kenyans are not taking up the required amounts of iron in their diet.
Ms Grace Msalame, the Royco brand ambassador for the Get Your Iron Up campaign, said she discovered she had iron deficiency, but managed to change this by adopting a healthy diet. "When I discovered that my haemoglobin levels were low, I decided to take up a diet with iron-rich foods to overcome the deficiency," said Ms Msalame.
She said the campaign had made her aware of the extent of ignorance that most Kenyans have about their iron status. "Some women have iron deficiency, but are unaware of it. Iron deficiency affects even men but very few are aware if this. If you are constantly tired and lethargic, one of the things you should be checked for is iron deficiency. You can be assisted through dietary advice or iron supplements for the severe cases," she said.