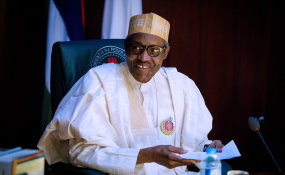 Photo: The Guardian
By Abbas Jimoh
President Muhammadu Buhari, the Sultan of Sokoto and President of the Nigeria Supreme Council for Islamic Affairs (NSCIA) Muhammadu Sa'ad Abubakar have been remain the only Nigerians listed among the top 50 influential Muslim leaders in the world.
They were listed in the 10th anniversary edition of the annual "The Muslim 500: The World's 500 Most Influential Muslims" 2019.
The ranking, first published in 2009, is compiled by the Royal Islamic Strategic Studies Centre in Amman, Jordan.
It said that apart from being citizens of their respective countries, those recognised also have a sense of belonging to Muslim community worldwide.
It among others measured influence to include; any person who has the power (be it cultural, ideological, financial, political or otherwise) to make a change that will have a significant impact on the Muslim world.
It, however, added that the impact can be either positive or negative, depending on one's point of view.
While President Buhari was listed as number 17 (19 last year and 20 in 2016), the Sultan whose highest ranking was in 2009 at number 16, was listed as 21 (23 last year and 24 in 2016).
The publication lists the Turkish President Recep Tayyip Erdogan as number one most influential Muslim worldwide, moving from his fifth position in 2017 to displace Professor Sheikh Ahmad Muhammad Al-Tayyeb the Grand Sheikh of the Al-Azhar University and Grand Imam of the Al-Azhar Mosque, Egypt.
King Salman Abdul-Aziz Al-Saud of Saudi Arabia however retained his second position of last year to keep King Abdullah Al-Hussein of Jordan to the third position. The Jordanian King was number one on 2016.
Iranian Supreme Leader Grand Ayatollah Hajj Sayyid Ali Khamenei and King Mohammed VI of Morocco came fourth and fifth respectively.
Egyptian award winning footballer, Mohammed Salah was ranked 46.
A renowned Maiduguri based Islamic cleric, Sheikh Ibrahim Salih, who dropped from the first 50 in 2017 was listed among the top 500 at 59 this year.
Other Nigerians recognised are Dr. Ibrahim Datti Ahmed, the Shiite leader Sheikh Ibraheem Zakzaky, the Chief Imam Ansar-Ud-Deen Society of Nigeria, Dr. Abdrahman Olanrewaju Ahmad, Prince Bola Ajibola, Imam Muhammad Ashafa, Sheikh Tahir Usman Bauchi, Alhaji Aliko Dangote, Sheikh Yakubu Musa Katsina, Prof Ishaq Olanrewaju Oloyede and Boko Haram leader Abubakar Shekau, among others.