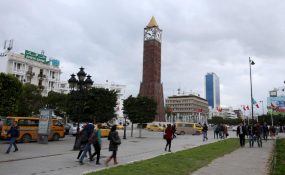 Photo: RFI
Tunisia's interior ministry said that a woman blew herself up in a central area of the Tunisian capital. Authorities warned people to stay clear as they assess the situation.
A woman detonated explosives in a suicide bombing in the Tunisian capital of Tunis, leaving several wounded in the attack.
Over the past decade, Tunisia has been targeted by terrorist attacks resulting in the deaths of dozens of people.
What we know so far:
A 30-year-old woman blew herself up near a police patrol unit, according to the interior ministry.
Nine people were injured, including eight police officers, said interior ministry spokesman Sofiene Zaag.
No group has claimed responsibility for the attack.
Habib Bourguiba Avenue was also a key meeting point for protesters during the Arab Spring.
Security situation
Tunisia has been rocked by several terrorist attacks in recent years. In March 2015, 22 people were killed when gunmen launched an attack at the Bardo Museum in Tunis. Three months later, 38 people were killed in a shooting rampage on a beach in the coastal resort of Sousse.
In November of that year, a suicide bomber killed 12 presidential guards in an attack claimed by the "Islamic State" militant group. While Tunisia has not been targeted by similar attacks since 2015, the North African country remains wary of militants, especially those hiding in neighboring Libya.
As of 2015, Tunisia has maintained a state of emergency. It was extended earlier this month until November 6.
(AFP, Reuters)
Each evening at 1830 UTC, DW's editors send out a selection of the day's hard news and quality feature journalism. You can sign up to receive it directly here.