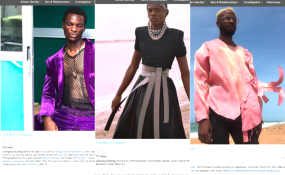 Photo: allafrica.com
By Kylie Kiunguyu
The youth of Africa today are positioned in an intermingling of cultural identities and there is a need to find a contemporary style that merges those identities. Black dandyism has helped curate an aesthetic that is well groomed, refined yet inclusive of African sensibilities. Most of all, it has ushered in the age of African gender fluid fashion.
Black Dandyism was brought to us by the Sapeurs, which stands for "Societe des Ambianceurs et des Personnes Elegantes" (the Society of Tastemakers and Elegant People) of Brazzaville. This curious society of gentlemen turned the art of dressing into a cultural statement and did it with literal style. The Sapeurs style is all decadence, flamboyant colour, polished tailoring and impeccable attention to detail. They explore staples not much used in men's fashion, like powder and blush colours and jaunty evening or silk scarves.
"The Sapeur is a model of gentlemanly behaviour and mannerisms; it's also the language he uses, the way he walks," Guinness campaign director and filmmaker Hector Mediavilla told the Telegraph newspaper. "How you treat people is very important. For a man to be a Sapeur he must be gentle, he must not be aggressive, he must be against war, he must be calm tempered."
The distinct style is a merging of cultures brought about by Congolese immigrants who, when visiting from France, brought French finery with them. The Sapeurs has since evolved into a fully fledged style tribe, essentially adapting European clothes with their signature vibrant African flair.
The Sapeurs arguably spurred the Black Dandy movement and the latter has brought about the rise of gender fluid fashion.
Fashionable Gender Fluidity
Notable African brands are making a statement for non-conformity and using style to create meaningful sub-cultures.
Nigerian designer Papa Oyeyemi's Menswear label "Maxivive" is known for dividing the Nigerian fashion community with his minimalist and androgynous designs that dismantle traditional menswear tropes. His collections have been known to feature sequin trousers, thigh-high sock boots, and sheer drawstring pants decorated with floral embellishments.
"The debate around gender fluidity is just beginning to open up in Nigeria," Oyeyemi told Vogue magazine. "I wanted to explore that, but I didn't want to come off as a cliché. It's not about putting a man in a woman's wardrobe... I try where I can to break new ground; you have to be a disruptor to encourage growth, mess up the structure of things a bit."
"Orange Culture" is another Nigerian unisex brand challenging gender boundaries. Designer Adebayo Oke-Lawal describes his brand as a movement, telling Vice that "the story behind the brand was the issue of hyper-masculinity and how it affects man-to-man relationships, which is something I found challenging growing up. I wanted to create a brand that wasn't just making clothes but that was starting conversations and making people question their preconceived ideas about what a man was, what a man should wear or how a man should be seen."
"So people were just not taken by it... I saw that if people don't understand that this kind of man can exist, then I need to push more for this kind of menswear," he told CNN in a separate interview.
Further down the continent, 25-year-old South African designer Lukhanyo Mdingi is breaking down gender constructs by tailoring masculine silhouette for women and dressing men in long flowing silk fabrics.
"When we started creating pieces that were gender fluid we were just moving with what we were witnessing in the outside world," Mdingi said in a phone interview with CNN.
"The reality is that I have been in the company of incredible human beings who have identified what masculinity is to themselves and this too has let me gauge and identify what it means to me and how it has evolved in my space of Cape Town."
Another prime example is 29-year-old Zimbabwean designer Tanya Mushayi, whose brand "Tanya Nefertari" is more functional rather than political in its fluidity.
"Growing up with two brothers I used to take some of their t-shirts and jackets and wear them but they couldn't do the same with my stuff," Mushayi told CNN. "The idea behind my unisex jackets was accessibility for everyone.
"Zimbabwe is perfect for gender-fluid fashion due to the current financial climate we're in, with high unemployment, minimal disposable income and limited resources."
If nothing else, these brands are initiating important conversations on gender expectations that have proven harmful - with concepts like "male strength" being a leading cause of suicide among men. Societal gender expectations have paralysed men and made them afraid of seeking help for fear of seeming weak or incapable. They have also created safe spaces for androgyny and gender fluidity, allowing all genders to be comfortable in their various truths.