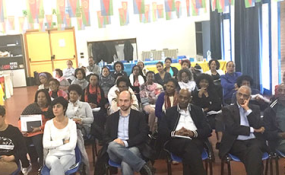 Photo: Shabait.com
Asmara — Eritrean community in Kuwait participated at the pavilion organized in Kuwait city in connection with "Africa Day".
At the pavilion that was organized on 30 October and in which communities and embassies of various countries took part, the Eritrean community staged exhibition portraying the tourism resources, marine resources, traditional foods as well as the traditions and culture of the Eritrean people.
In the same vein, the National Union of Eritrean Women branch in Italy conducted its annual assessment meeting from 27-28 October in Bologna city.
The assessment meeting was attended by representatives of sub-branches from 13 Italian cities and conducted extensive discussion focusing on the strengths and weaknesses witnessed in the implementation of the charted out programs. The participants also discussed on the new era of peace and friendship prevailing in the region and the contribution that is expected from them.
The Chairwoman of NUEW branch in Italy and Europe, Ms. Nigisti Tsegay gave briefing on the contribution the Keren Vocational Training Center is making in upgrading the capacity of women and enabling them become self-supportive and productive members of the society.
The Eritrean Ambassador to Italy, Mr. Fessehatsion Petros on his part gave an extensive briefing on the objective situation in the homeland and the progress of the peace and friendship agreement between Eritrea and Ethiopia and called on the participants to strengthen participation.
Various officials from the Bologna Municipality also presented messages of solidarity.