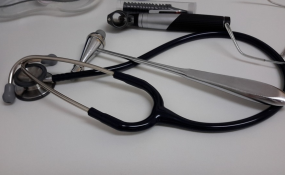 Photo: Pixabay
By Jacqueline Kubania
Infamous quack doctor Mugo wa Wairimu is back in the news following NTV's exposé that has sent shock waves across the country. Constructed using months of surveillance footage recorded by hidden cameras, this is the kind of story that makes one's blood go cold.
'Dr' Wairimu is accused of reckless endangerment, sexual assault of patients, overcharging, getting high on drugs and alcohol while attending to patients, and performing complicated medical procedures without the required equipment, not even gloves.
INTOXICATED
'Dr' Wairimu, whose real name is James Mugo Ndichu, is not really a doctor and is yet to prove the authenticity of any certificate he claims to have.
In the NTV exposé, he is shown repeatedly injecting himself with an unknown drug that puts him in a stupor.
When not knocked out from injectables, Mugo is intoxicated from alcohol, which he drinks from a plastic cup as he attends to his patients, or from sticks of marijuana, which he smokes at the clinic.
NEEDLE
At one point, he drops his trousers and injects himself in his bottoms in full glare of his staff, and proceeds to leave the used needle and bloody cotton wool on the desk where he sees patients. He then slumps down on a chair and passes out.
He is callous with his patients, mostly women. Mugo came to the limelight in 2015 when he was accused of raping women at his clinic in Githurai. Women who had sought treatment from him, mostly for gynaecological issues, narrated how he had drugged and sexually abused them before letting them go. In a video aired on TV, Mugo was seen sedating a woman and raping her. It took 24 minutes, and the woman slept through it all.
RAG TAG
He went on the run, as he has done now, and was later arrested in Limuru. But the court case that the prosecution attempted to put together against him fell apart since no victims were willing to come forward and give statements to the police.
The other charges of operating a clinic without a licence, and hiring non-medical personnel to do medical duties should have stood. But inexplicably, Mugo was soon on the loose, once again, given him freedom to terrorise unsuspecting victims at his clinic in Kayole, Nairobi. Here, he has been operating unhindered, assisted by his rag tag army of three fellow quacks going by the names 'Dr' Newton and 'Dr' Victor.
DIAGNOSIS
"How far do you stay? She is supposed to come here. Take a boda boda and come now. Bring Sh1,000. I'll give you medicine to boost her blood. Don't delay, the bacteria will give her problems. Tomorrow she will have a discharge if you don't come now," he instructs the husband of a patient who has called complaining of vaginal bleeding. While he gives this diagnosis and prescribes medicine, he is in the midst of yet another drug-fuelled stupor, dispensing medical advice while lying down on a bed in the clinic.
COMPLICATIONS
Soon after, the caller arrives and Mugo hands him the medicine, while still operating from his hospital bed. The man ends up paying Sh800 for drugs, which cost Sh40. A particularly disturbing scene from the hidden camera shows Mugo conducting a job interview at a room in his clinic in front of a patient who he has admitted due to post-abortion complications.
The patient, a 20-year-old girl, according to the narrator Denis Okari, writhes in pain while Mugo interviews the prospective job candidates.
INTERVIEW
When it becomes apparent that the candidate has no viable papers, Mugo says to him: "I really don't care about papers, I care about what you can do. Even if you are from the sun, the moon or whatever I don't care. There are so many people claiming to have all sorts of degrees from all sorts of places and they can do nothing. But what can you deliver? That's what I care about."
PAINFUL
It soon turns out that part of the job seeker's interview will be to remove a retained placenta from the young woman in bed. Using a speculum that has just been delivered unwrapped by a boda boda rider, the candidate will employ an arsenal of other instruments to coax the placenta and other tissue out of the young woman's body. The process seems to take forever, invasive, unrelenting, painful. "For the next few minutes, the young man is left alone to remove the remains of the placenta. The video is so graphic that we can't show it on national television," narrates Mr Okari, with blurred footage of the procedure in progress forming the backdrop against these chilling words.
HELPLESS
It gets worse. "The camera misses something disgusting and shocking that Mugo does. We can only see his back that blocks the view of what he is doing to the young woman. Mugo starts kissing the patient and tells her it is a way to keep her mind off what Victor and the young man are doing. The helpless woman can't do anything at this point," adds the narrator.
In the end, Mugo has to step in and finish the procedure as his interviewee is unable to handle it. All in a day's work at Ultrasound Services in Kayole, where he operates from.