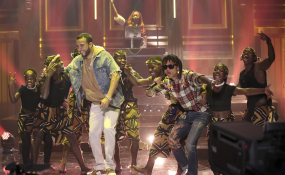 Photo: French Montana/Instagram
American rapper French Montana gifted Uganda Ghetto Kids dancers with a multimillion shilling mansion. The house was presented to the children by their manager Kavuma Dauda. The massive gift comes more than a year after he featured them in his hit song "Unforgettable", which was shot in Uganda and has over 790 million views on YouTube.
Excitedly, Ghetto Kids took to social media to thank French Montana for being a blessing to their lives.
"2018 has been a great year for us. We thank the Almighty God for the blessings. We pray he continues blessing us more and more. French Montana and the whole team we can't thank you enough. We only pray to God to continue blessing you guys; we shall always be proud of you," the Instagram post reads.
In 2017, the rapper flew the Ghetto Kids to US to attend the prestigious BET Awards, where they also got a chance to perform.
Ghetto Kids manager has said the mansion will now be home to 25 children under his label. Ghetto Kids were brought to the limelight in 2014 by famous Ugandan singer Eddy Kenzo when he featured them on his hit dance song "Sitya Loss". The song also went on to win him a BET Award.