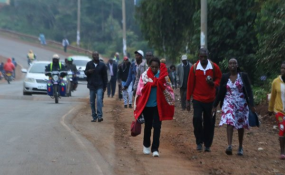 Photo: Joseph Kanyi/The Nation
By Winnie Atieno
Transport in the Coast region will be paralysed after the Matatu Owners Association announced a boycott.
National Vice Chairman Salim Ali Bates said since a majority of the members have not complied with the Michuki regulations, they will not operate.
"Some of our vehicles will not operate because of lack of digital speed governors in all major shops in the Coast region. Prepare to walk to work," Mr Bates said ahead of the official enforcement of transport rules.
Police officers have been deployed to seize road unworthy vehicles.
Speaking to the Nation on phone, Mr Bates said only vehicles plying highways have complied with the rules.
ROAD CRASHES
A Mombasa resident, Mr Julius Kalulu, said the guidelines will facilitate safety. "We want sanity on our roads. We are ready to pay the price by either walking or crawling to work. The matatu sector must be sanitised," he said.
National Transport and Safety Authority director general Francis Meja recently argued that the disregard of traffic rules is contributing to road crashes.
"We are happy with what we are doing. But there is a lot more we can still do. Starting Monday, we will ensure all vehicles have upgraded speed governors and working seat belts," he said.