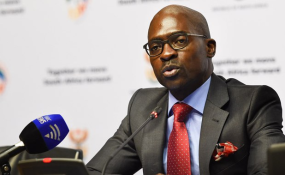 Photo: GCIS
analysis
By Marianne Merten
Malusi Gigaba resigned as Home Affairs minister on Tuesday afternoon. The presidency confirmed that President Cyril Ramaphosa had accepted the resignation.
Malusi Gigaba's resignation as Home Affairs minister brings to an end a torrid month that started with a leaked solo sex tape and worsened when his last bid to appeal a court finding that he lied under oath was dismissed by the Constitutional Court. Then the public protector told President Cyril Ramaphosa he had 14 days to take disciplinary steps against Gigaba as lying under oath was a contravention of the Executive Ethics Act and codes.
That deadline for presidential action was Wednesday. And after a widely reported meeting between the president and the minister on Friday, it seems Gigaba made a last-ditch attempt to file legal papers to take the public protector report on review.
If that had been successful, Gigaba would have been able to stay off any disciplinary action from the president on the argument that the report and remedial action were still under review, and thus not final. It is reliably understood the process of filing the legal papers...