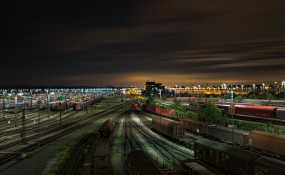 Photo: Pixabay
Sintayehu Woldemichael (PhD), former Minister of Education, became the new CEO of the Ethiopian Railway Corporation on November 5, 2018.
The Corporation has been led by acting CEO Yehuwalashet Jemere since the resignation of the former CEO Berhanu Beshah (PhD).
Sileshi Bekele (PhD), Minister for Water, Irrigation & Energy and chairperson of the board of directors of the Corporation, approved the resignation of Berhanu Beshah (PhD) on October 1, 2018.
The new CEO served as the director general of the Public Financial Institutions Supervision Agency before coming to the Ministry of Education.
Ethiopian Railway Corporation was established on November 2007 by the Council of Ministers.
The Corporation has overseen multi-billion dollar projects of railway routes in eight corridors including the Addis Abeba-Modjo-Awash-Dire Dawa-Dewaele; Modjo-Shashemne-Arbaminch-Konso-Moyale; Addis Abeba-Ljaji-Jimma-Gudaferda Dima, with an extension to South Sudan; and the Awash-Kombolcha-Meqelle-Shire routes.