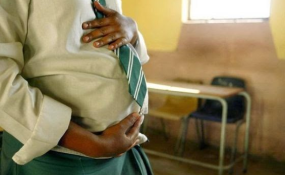 Photo: The Citizen
By Syriacus Buguzi
Dar es Salaam — The World Bank said yesterday that it had agreed with the government on a new framework that would see girls who become pregnant while in school continue with their education.
This came a day after the Bank's Vice President for Africa, Dr Hafez Ghanem, held talks with President John Magufuli at State House.
Dr Ghanem said during a media briefing yesterday in Dar es Salaam that the WB's technical team would now start re-designing the $300 million education project it had intended for Tanzania to align it with the right of all girls in the country to go to school.
"We have agreed to work on redesigning this project, together with the ministry of Education, to provide a pathway for girls who drop out of schools for any reason, to get back into the system," said Dr Ghanem.
"But it's our board of Directors [at WB] who will determine, yes or no, about the project. We will present the concept to the board. It may take months or even a year but when it's agreed upon, then, we will be able to proceed," he explained. An earlier statement issued by the Director of Presidential Communications, Mr Gerson Msigwa, stated that the WB had agreed to give out $300 million (Sh680 billion) to support various education projects in Tanzania. The statement noted that WB had reaffirmed its commitment to supporting education in Tanzania.
Recently, the international media reported about the WB's decision to delay the release of the $300 million loan to Tanzania due to concerns over pregnant school girls, who weren't allowed to go back to school. WB officials emphasised yesterday that deal hadn't been entirely cancelled as was reported in the international media.
In June last year, President Magufuli banned girls who become pregnant from attending public schools. Dr Magufuli's decision has since attracted worldwide condemnation and lately, the WB announced it was putting on hold the $300 million education initiative over girls' rights.
The project, which until now remains on hold, was expected to take off in October this year, the WB communication office in Dar es Salaam told The Citizen.
Dr Ghanem emphasized yesterday that it would only support the $300million education project, only if girls--whether pregnant or not--are given a chance to go to school.
"Girls' education is central to development. We cannot accept that girls be denied education. We are a development institution," Dr Ghanem told journalists in Dar es Salaam.