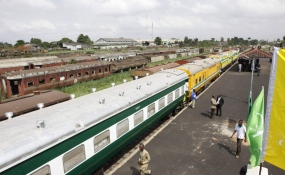 Photo: Premium Times
By Azimazi Momoh Jimoh
Abuja — The Peoples Democratic Party (PDP) has fingered the "harsh economic policies" of the President Muhammadu Buhari administration in the recent withdrawal of General Electric (GE) from a $2.8 billion railway concession deal.
In a statement yesterday in Abuja by its national publicity secretary, Kola Ologbondiyan, PDP urged Nigerians to dismiss the "Next Level mantra introduced as Buhari's 2019 slogan," stating that the "president has failed to deliver on his promises."
It added: "The next level Buhari administration can only take Nigeria to severe hunger and pains beyond what Nigerians have been experiencing in the last three and half years."
The party noted that "with the withdrawal of GE and the continued exiting, from our nation, of other huge foreign investors, due to unabated unfriendly polices, the Buhari presidency has cost Nigerians the much-needed commercial and employment opportunities and further frustrated the development of the nation."
PDP continued: "The Buhari administration is the major economic challenge facing Nigeria as a nation. Our nation has continued to reel under the administration characterised by economic stagnation, high inflation, soaring unemployment and harsh regulatory regime that scare away investors."