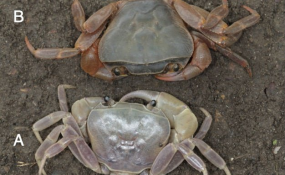 Photo: Supplied
A new crab species has been discovered in the forests of the Eastern Cape. In a study conducted by Professor Savel Daniels, a "pearl white" crab species was found in Mbotyi, north of Port St Johns.
The new crab species, which lives near its rust brown cousin, Potamonautes sidneyi, is named mhlophe (white in isiXhosa).
Both species live in fresh water and Daniels said that the find was a surprise.
"Nobody has ever intensively sampled the forests in the Eastern Cape where we (incidentally) found the species at Mbotyi," he said.
The newly discovered crab species, Potamonautes mhlophe, lives under river stones and shimmers when light hits its shell.
According to the Foundational Biodiversity Information Programme (FBIP), which funded the study, phylogeographers - people who study how historical processes have resulted in where species are distributed - identified the "symmetry" of the related species.
Symmetry means that the species live in the same geographical area, but do not breed.
Excitement over possibility of more undiscovered species
Daniels explained that, generally, forest animals in South Africa had not been studied in detail.
"Forest, as the smaller biome in SA, has been much neglected from a biodiversity perspective. From a floristic perspective it is well studied, but from a faunistic perspective it is not. Hence animals, and particularly invertebrates, are poorly studied. This is further negatively impacted by the lack of taxon experts to identify species," Daniels, who is a molecular taxonomist at Stellenbosch University, told News24.
The main evidence for the uniqueness of the species is the difference of 13% in the COI gene, usually a primary marker for animal genetic studies.
But Daniels is more excited at the possibility of more undiscovered species.
"There is likely a wealth of undiscovered species, particularly among poorly studied invertebrate groups," he said.
He warned though that many species might never be discovered as a result of climate change.
"Climate change models suggest that biodiversity will potentially be very negatively impacted, causing some species to go extinct, while causing others to contract and shift home ranges."
Source: News24