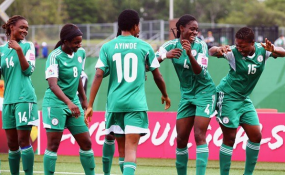 Photo: Premium Times
Thomas Dennerby (Head Coach, Nigeria)
As a coach you have to be professional and as I said before the opening fixture, whatever happens there are more games ahead. The best thing you can do as a coach and as a player is to start thinking about winning the next games and try to find how many goals you need to score and where you can be on the standings.
We are just working the way we used to be, trying to prepare the team the best way we can. I remain optimistic; the aim has not changed and definitely securing a ticket to the FIFA Women's World Cup in France.
We hope to go all the way to the final in this tournament again. And of course we need to win against Zambia. Everybody knows we have to perform our best and fight with our hearts. We have to show ourselves that we are really a team that can handle situations like these.
Big teams use to do that and if we are really a big team, we will show that in the game against Zambia.
Osinachi Ohale (Defender, Nigeria)
It was a difficult result for us in the first game but we have put that behind us. We learned a lot from the game and we are working hard to make sure we put things in order and correct our mistakes against Zambia.
We are all motivated because it is our career. No one would say I have been to the World Cup two or three times or I have won the cup 100 times so I am not putting in my best.
It is something we have chosen to do so we cannot go out there and say because of this or that we are not putting in our best. The defeat in the first game should not bring any negativity on the team because we always prepare ahead. We are going to deliver against Zambia.
Bruce Mwape (Head Coach, Zambia)
We won the opening game and that is now history, it is water under the bridge. That is past and gone. Our focus is on the next game against Nigeria.
Nigeria is a very strong team which we know and losing their first game to South Africa, they would want to make amends against us (Zambia) and by claiming all the three points.
We are also ready and well-prepared to face them (Nigeria). It is actually true that we need to adjust our tactics because playing against Nigeria is different from our opening game with Equatorial Guinea.
We know the Nigerians are skillful and have good tactics and strategies but will try by all means to neutralise that with our tactics. We will stick to our style and we know it and cannot disclose it in the opening.
Mary Mwakapila (Midfielder, Zambia)
The victory against Equatorial Guinea gave the entire team morale. We are looking forward to ensure that our aim is accomplished at the end of the tournament.
We came into the tournament with the aim of qualifying to the World Cup and going back to Zambia with the trophy.
As far I am concerned, beating Equatorial Guinea is not the main target. We have come to make it to the World Cup so we are going to do our best and also work as a team to make sure we beat Nigeria, South Africa and make it to the final and that will guarantee us a World Cup slot.