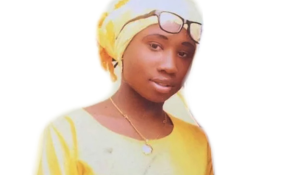 Photo: Vanguard
By Sam Eyoboka
International Christian Concern, ICC, a non-partisan, charitable organization focused on human rights, religious freedom and assisting the persecuted Christian Church around the world has declared that after putting a call through to the traumatized mother of Leah Sharibu there has not been any further effort by the Muhammadu Buhari Administration to secure the lone Christ-ian schoolgirl in Boko Haram's captivity.
Leah Sharibu, who marked her 15th birth-day in captivity last May, was one of the 110 schoolgirls kidnapped on February 19, 2018 by the Abu Musab Al-Barnawi-led faction of Boko Haram from GGSTC, Dapchi in Yobe State. On March 21, the Federal Government announced that Boko Haram terrorists had returned 106 of the kidnapped children. The lone abducted Christian girl, Leah Sharibu who is today spending the 249th day in the forest, wasn't released because the group would only release her if she con-verted to Islam
ICC's Regional Manager for Africa, Na-than Johnson told our correspondent in a brief chat during the week that as far as ICC is concerned, there have not been any more efforts to secure Leah Sharibu's release.
"Last month, President Muhammadu Buhari called Leah's mother over the telephone, but never visited her. The government then sent a delegation to meet the family, but it appears as if this was only a political move to show that they care, not to actually take action. Our sources close to the family said that this delegation only wanted to follow up on how the call with Buhari went, not to help release her quicker," the regional manager stated.
Asked if the ICC has been able to reach out to the Nigerian president to find out what his government is up to, Mr. John-son said: "We have had no communi-cation with the Buhari administration. We are nervous about what will happen leading up to the elections and what will happen after the elections, especially if Buhari is not re-elected. It is very likely that there will be riots and attacks on Christian communities if he is not re-elected."
On its efforts to involve other con-cerned bodies to assist in the release of the lone schoolgirl, the ICC regional manager said it has been working with the Leah Sharibu Foundation and other NGOs that care about this case, stating that the Leah Sharibu Foundation was established to assist the Sharibu family as well as other families in similar situat-ions.
He insisted that there have only been small gifts to the family, explaining: "They have moved their son to a safer school away from Dapchi. The family is still living life without their daughter, and there is not much that can be done for them at the moment in the form of tangi-ble relief. Losing their daughter in this way cannot be healed through money and gifts. We continue to ask people to pray for the family's faith, Leah's faith and well-being, and Leah's release."
According to the US-based Christian rights group, one of the most important needs to effectively address the menace of insurgency in Nigeria, is to define what is really going on in Nigeria.
"There are many narratives that are be-ing used by different sides to define the crisis in Nigeria, but most of them are just being used to help politicians or people gain power or avoid blame for the problems.
"The media must determine what is hap-pening and report clearly about the sit-uation," the ICC regional manager emp-hasized, adding "the country must be willing to ask for international help if necessary. Boko Haram has been a me-nace for nearly a decade, yet they con-tinue to wreak havoc in Nigeria.
"This shows that the government has not been able to defeat the group by themselves. They must change the cult-ure in northeastern Nigeria so that citi-zens in the region fully turn against Boko Haram. They must prove that they can protect their citizens," he said, noting that it is not an easy task.
"It is a very complex situation taking place in Nigeria, so it will take wisdom to figure out how to combat these iss-ues," he added.
Given the complex nature of the nation's security situation, can there be peaceful elections next year? Mr. Nathan Johnson said only Nigerians can answer that que-stion.
"This is something that the people of Nigeria and local leaders need to decide. We hope to see peaceful elections which will help the people of Nigeria trust their government more. But even if they do not, we will hope and pray for peace for the Christians of Nigeria," the ICC manager prayed.