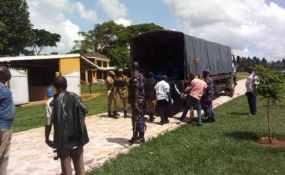 Photo: Jessica Sabano/Daily Monitor
Several people have perished in a motor boat accident that occurred in the waters of Lake Victoria in Mpatta sub-county, Mukono district. Police spokesperson Emilian Kayima said marine police have so far rescued 40 people who were on board.
The blue boat that capsized belongs to the management of KK Palm beach on Mpatta island in Mukono district. The boat usually docks at Gaba landing site to take people to KK Palm beach every weekend.
"Uganda police marine unit rescues over 40 people alive on Lake Victoria. Ten died. Rescue mission still on." read a statement on the Twitter handle sent about 10 hours ago.
However some survivors said more than 22 perished in the accident. Approximately 120 people are said to have been on the boat and some survivors said it was overloaded although the registration list had 104 names and it's possible that some passengers may not have registered. According to police sources, more than 70 people are still missing.
MV Amani commonly known as Earthwise ferry has been dispatched to help rescue the remaining people as confirmed by ferry administrator Patricia Kasasa.
The boat, which according to police had a mechanical fault also had Buganda kingdom prince Daudi Wasajja and singer Iryn Namubiru among other socialites and celebrities as some of its passengers.
Videos and pictures posted on social media by the revelers before the accident, several people could be seen without life jackets. According to some survivors, the captain of the ship reportedly warned the passengers that the boat had a mechanical fault and wanted to cancel the cruise but the passengers insisted on the trip after it was perforated by a tractor that pushed the boat into the deeper waters off the boat repair centre. Moreover, one of the first rescue boats also capsized, further drowning even more survivors and rescuers.