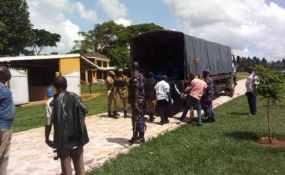 Photo: Jessica Sabano/Daily Monitor
At least 22 people have died and more than 60 are feared drowned after a boat sank on Lake Victoria in Uganda. Authorities say that bad weather and possible overloading were likely to blame for the accident.
More than twenty people have died and more than 60 are missing, feared dead, after a boat capsized and sank on Lake Victoria on Saturday evening, Ugandan police said on Sunday.
They said that dozens of people had been rescued near the scene, close to the Ugandan capital of Kampala.
Rescue efforts were underway to try and save people believed to be trapped in the fully submerged boat, police added.
The vessel, on which close to 100 people were drinking, dancing and listening to music, sank a short distance from the shore off Mutima in Mukono District.
"Twenty-two bodies have been recovered and 26 people have been rescued," said Asuman Mugenyi, director of operations for the Uganda police. "According to one of the survivors, there were more than 90 people on board."
The cause of the accident remains unclear but Mugenyi said overloading and bad weather could be the reasons.
"We expect (the number of passengers) is beyond the capacity of the boat. It was overloaded and unfortunately people were drunk," Mugenyi said. "We suspect the mechanical condition of the boat and the weather contributed to the sinking."
"A big storm hit," said Richard Kikongo, a local government official. "It can be fine on land but bad weather on the lake."
East Africa's 'deadly lakes'
East Africa's major lakes have been the scene of multiple boat accidents in recent years.
More than 200 people died Lake Victoria in September when an overloaded ferry capsized near the Tanzanian coast.
At least 500 people were killed when a ferry capsized on the same lake, which borders Uganda, Tanzania and Kenya, in 1996.
shs,amp/tj (AFP, Reuters)