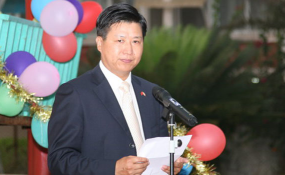 Photo: The Citizen Tanzania
By Rosemary Mirondo
Dar es Salaam — A top Chinese official says that the communist country has no plans and has never thought of recolonising Africa.
China's Ambassador for Affairs of the Forum on China-Africa Cooperation (FOCAC) in the Foreign Ministry, Mr Zhou Yuxiao, said contrary to such claims, China wanted to pursue a mutual partnership with the continent.
"I am not the final decision maker but as an ambassador, I participate in different discussions and take part in some decisions. People come to request for support...please lend us money for construction of a certain road, bridge and so on. And we give them because they need support and we are able to afford it," he said.
China has lately come under scrutiny from some African scholars and leaders in the political and civic space who fear the country was investing heavily in the continent with an undeclared ulterior motive.
Critics of China's deep pockets fear poor African countries' overreliance and heavy indebtness to China was unsustainable and would soon come back to haunt them.
China has poured billions of dollars in funding to Africa for infrastructure projects and in grants but signs of loan repayment stress have begun to emerge in some of the poor countries, with analysts warning China was likely to hold the countries hostage to their own panning.
Yesterday, Mr Zhou sought to clear the air on the fear that China may use the debt burden as a weapon to get unfair deals from the affected countries.
He was responding to similar fears raised by economists who were participating in a Conference on Belt and Road Initiative and China-Tanzania Industrialisation Cooperation held yesterday at the Julius Nyerere International Convention Centre in Dar es Salaam.
China's Belt and Road Initiative (BRI) is an ambitious programme to connect Asia with Africa and Europe via land and maritime networks along six corridors with the aim of improving regional integration, increasing trade and stimulating economic growth.
BRI's eight initiatives include industrial promotion, expanding investment in Africa, building economic and trade cooperation zones, promoting China-Africa cooperation on agriculture modernisation, policy coordination, facilities' connectivity, unimpeded trade and financial integration.
Yesterday's conference aimed to share knowledge and analyse policy situations unique to Tanzania to promote industrialisation using China's long experience in this area.
The Chinese official said Tanzania and other countries collaborating with China should know that China has always been for a win-win situation in its dealings. "We do not have a political agenda." He said in the process there are some projects which prosper and make profit but some don't do well, which result in debt burden.
"Unfortunately, it is not China as the lender or African countries as borrowers who are complaining. The question to ask is why is the third party concerned? You can imagine why," he said.
Meanwhile, China's ambassador to Tanzania, Ms Wang Ke, said Tanzania's decision to promote industrialisation is going to positively benefit the country through the Belt and Road Initiative (BRI) cooperation with China through expansion of investment, building economic and trade on agriculture
Jointly implementing the BRI including policy coordination, facilities connectivity, unimpeded trade, financial integration and people to people bonds will provide comprehensive support and guarantee for deepening industrial cooperation.
Ms Wang said this when opening a conference on the Belt and Road Initiative and industrialisation cooperation between China and Tanzania.
She said African countries including Tanzania attended Belt and Road Forum for International Cooperation which proposed to implement eight major initiatives with African countries in the next eight years. "The first is industrial promotion initiative, and China President Xi Jinping also announced that the Chinese government will extend $60 billion of financing to Africa in the form of aid, loans and investment so as to support the implementation of the eight major initiatives under BRI," Ms Wang said.
The ambassador said that jointly implementing BRI and deepening industrial cooperation are the two core complementary contents of China-Africa and China-Tanzania cooperation in the future.
She said Tanzania is one of Africa's fastest growing economies and has also made industrialisation an important policy objective. "Ever since assuming office President John Magufuli has made industrialisation the fundamental approach and the focus of his governance to achieve its development vision.
Industry, Trade and Investment deputy minister Stella Manyanya said Tanzania was endowed with abundant resources but needed technology from developed countries to attain its vision of becoming a middle income country.
She said this on Wednesday, November 2018 during a conference on the Belt and Road Initiative and industrialization cooperation between China and Tanzania.
According to her, Tanzania will attain the technology through its corporation with China. "Tanzania has been cooperating with China for many years in different fields which include the Tanzania Zambia Railway Authority (TAZARA) among others," she said.
Other participants in the conference include officials from Tanzania Investment Center (TIC), Export Processing Zones Authority, as well as economists