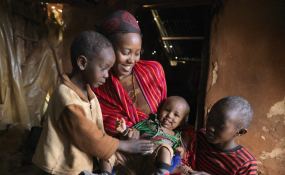 Photo: Concern Worldwide UK
By Judd-Leonard Okafor
The latest Global Nutrition Report says three of the worst forms of malnutrition are highest in Africa.
Some 30 out of 41 countries struggling with childhood stunting, anaemia in women of reproductive age and overweight among women are in Africa, according to the report.
But it adds the burden of malnutrition is "unacceptably high" and affects every country in the world.
For the first time, the report includes data on diet, what people eat and how it affects them.
"The figures call for immediate action. Malnutrition is responsible for more ill-health than any other cause," said Corinna Hawkes, co-chair of the report and director of the Centre for Food Policy.
"The health consequences of overweight and obesity contribute to an estimated four million deaths globally. The uncomfortable question is not so much 'why are things so bad?' but 'why are things not better when we know so much more than before?'"
"The 2018 Global Nutrition Report offers forward-looking steps to strengthen the ability of global and national food systems to deliver nutritious, safe, affordable and sustainable diets for children," said Henrietta Fore, executive director of the United Nations Children's Fund.
"This paradigm shift - food systems that contribute to prevent malnutrition in all its forms - will be critical for children's growth and development, the growth of national economies, and the development of nations."
The report also notes an "unprecedented opportunity" to address malnutrition.
The proportion of children too short for their age has fallen from 36 in 100 children in 2000 to 22 last year.
The report notes national spending on nutrition is inconsistent, even though total development assistance for nutrition allocated to the continent has increased in the last five years.