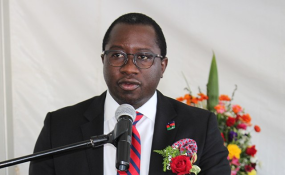 Photo: The Namibian
By Sakeus Iikela
Justice minister Sacky Shanghala last week tabled a bill in the National Assembly to scrap about 144 discriminatory and outdated legislative pieces from the Namibian law books.
The bill, currently at the committee stage, states that the laws to be removed were outdated and have been overtaken by more relevant legislation.
The removal of these obsolete laws, according to the bill, will also prevent confusion for the public.
The draft bill seen by The Namibian shows that the majority of the statutes identified for repeal include acts, ordinances and proclamations stemming from the pre-independence era from 1915 up to 1992.
Among the obsolete statutes is the Vagrancy Proclamation of 1920, the Native Reserves Fencing Proclamation, the Industrial Development Act of 1940, and the Fugitive Offenders and Neighbouring Territories Evidence Proclamation of 1920.
The Trespass of Donkeys Proclamation of 1941, the Native Administration Proclamation of 1928, the South West Africa Affairs Act of 1969, the State Hospitals Ordinance of 1966, the Finance Act of 1976, and the Reservation of State Land for Natives Amendment Ordinance of 1977 are also among the obsolete laws to be repealed.
In his motivation last week, Shanghala said the nature of those laws were aimed at managing "native affairs".
He said the laws identified in the bill were still in force, but cannot be applied due to their racist nature.
"This situation is contradictory to the rule of law in principle," he said, adding that the laws were identified after the Law Reform Development Commission reviewed "the entire body of 557 laws in force in Namibia" for reform.
According to Shanghala, there were still about 144 laws listed as obsolete in Namibia.
He said the listing of the 144 laws were done after intensive research and consultation was undertaken to "ensure that repealing the laws will not leave a gap in the legislative framework of the country".
The Assistance Fund of South West Africa Repeal Act of 1992 is the only obsolete law enacted after independence, he stated.
"With this bill, we are starting a large-scale process of neatening the Namibian law books, and in so doing making the law simpler and more accessible to all Namibians," Shanghala said.
Swapo chief whip Evelyn !Nawases-Taeyele commended Shanghala for initiating the repeal of the archaic laws, saying it marked a "historic event".
In her contribution to the debate on Tuesday, !Nawases-Taeyele said the obsolete laws to be removed were discriminatory, and also had a negative impact on service delivery.
She added that the old laws were widening the gap between the rich and the poor, and had an adverse impact on the "efficient and effective administration and access to justice".
"We had many deliberations about outdated laws in this august house. Some of these laws are very old and were passed to meet a particular emergency, and then just stayed in place," she said.