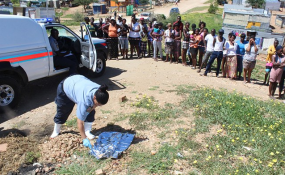 Photo: The Namibian
column
By VUYO MAKAPELA
When Charmaine, a 22-year-old woman arrived at the social work department accompanied by her boyfriend (Sam), he wanted her to terminate her pregnancy.
Charmaine, however, reported that she did not wish to as she had encountered complications with a previous one which involved issues of high blood pressure and she was planning to keep her current pregnancy.
The social worker enquired whose decision it was to terminate her pregnancy and after some hesitation, Charmaine disclosed that it was her boyfriend's decision. At this point, the social worker highlighted to the couple that the choice is solemnly dependent on the expectant mother.
Sam confirmed it was his decision and he responded: "I have enough children with my wife at home".
It turned out that Sam was married, and he only told Charmaine about his wife and children when he discovered that Charmaine was pregnant.
The social worker re-emphasised to Sam that termination of pregnancy cannot be done on Charmaine based on the fact that he wants her to have it and that he wants to take the easier way out of his responsibilities.
The social worker advised Charmaine appropriately and made the necessary referrals to ensure that she gets the attention she needed. The social worker ensured that Charmaine has other safety measures in her community and family as Sam was adamant that she is not allowed to go back to their apartment if she does not terminate the pregnancy.
In a separate case, Vanessa, a 23-year-old woman, discovered that she was pregnant. She spoke to her boyfriend, and he asked her what she intended to do. Although the man was willing to take care of the baby, Vanessa had made a decision. She could not keep the baby as she had no one to help her with the child and she wanted to finish school first. When Vanessa went to the hospital, she was referred to a social worker for the pre-counselling session.
The social worker asked Vanessa why she wanted to terminate her pregnancy when there were so many people who want to have children. Vanessa had no answer for that as she felt she was being judged over her decision of wanting to terminate her pregnancy.
The social worker calculated her pregnancy based on when last she had her period. The social worker, however, did not send Vanessa for a scan to verify the gestation period. Vanessa was sent home and told to come back at a later date.
Upon her return, she was told by the social worker that she could not have an abortion induced as she was now 14 weeks pregnant. According to the social worker, Vanessa could only undergo the procedure if her pregnancy was 12 weeks and under. She returned home heartbroken and then decided to go to a private and illegal clinic for the procedure. She was assisted the same day.
These scenarios bring attention to some of the factors that contribute to unsafe termination of pregnancy (TOP). Many women and girls in South Africa suffer in silence when families and partners infringe on their sexual reproductive health rights when they are pregnant.
Their families or partners feel that the choice is theirs to dictate what happens to a woman's body. Termination of pregnancy is often forced on these young women and young girls. Families and partners usually take them to the hospital to request termination of pregnancy (TOP) on their behalf.
Legally, this is not allowed as Section 5 of choice on Termination of Pregnancy Act 92 of 1996 stipulates that 5(2) "no consent other than that of the pregnant woman shall be required for the termination of pregnancy". Some go as far as obtaining the pills from unregistered practitioners.
Some girls keep their pregnancies not knowing what to do or how to go about obtaining a legal TOP. As a result, they end up buying pills which have negative consequences for them, especially if their pregnancy is advanced.
Often the result is not good for some women and girls as they end up in the hospital for womb evacuation. Now some doctors are pro-legal TOP.
This means some women end up in police cells for illegal TOP or murder depending on the gestation period. TOP education must be included in sexual reproductive health training (family planning). Currently it is not, and one may hypothesise that this is partly because TOP is not family planning and should not be seen as one.
Furthermore, many people's conservative beliefs influence what is taught and shared especially in the education system which leaves especially girls not knowing what to do or where to seek assistance.
Families, partners, and even those also affected often lack information, access to resources and visibility of services and service providers which contributes negatively to women's sexual reproductive health and rights (SRHR).
In the case of Vanessa and Charmaine, their voice and choice to decide on their SRHR were infringed upon.
Moreover, there are psychological effects on all these women. Unfortunately, the majority of them are scarred for life as families do not understand the impact of imposing their beliefs on them. The other fact is that in some of these communities counselling is not readily and freely available to these young women.
If any counselling is available at all it is the one for pre-termination of pregnancy. This was evident in an interview with one of the illegal service providers. They mentioned nothing about counselling sessions for the young women who are their clients. They only provide information on how to take the TOP pills.
However, illegal service providers for TOP have become the go-to places as it is easy to get help from them. They no longer provide only misoprostol. They provide antibiotics as well which are to be taken a day or two after the TOP pills.
Hypothetically this decreases post infection chances. The post infections are often the reason why some young women end up in hospital after their TOPs.
Advocacy and education are needed at both macro and micro levels of interventions. Educational and advocacy interventions need to take a multi-sectorial and interdepartmental approach. This relationship may be easy to forge in some communities as mobile clinics are already doing school visits to bring contraceptives to some community schools.
A national approach with the aim of leaving no one behind needs to be adopted. We need mobile clinics visible and consistent in all the communities for easy access to service. The introduction of these is crucial, especially for rural communities where people have to walk long distances to access healthcare services.
In these villages mobile clinics will need to be visited, perhaps twice a week, to cater for general sicknesses and have a specific day for family planning education, inclusive of TOP processes and awareness.
- The stories were derived from interviews conducted with those affected by either illegal TOP and safe and legal TOP.
* Vuyo Makapela is a social worker and she also mentors young women. This article is part of the Gender Links 16 Days News Service #VoiceandChoice Campaign.