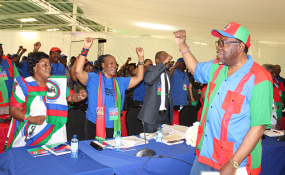 Photo: The Namibian
By Shinovene Immanuel
Former Cabinet minister Helmut Angula expressed delight that his proposal that one must put in decades of serving in the party to be Swapo president had been accepted.
Angula was upbeat yesterday when The Namibian informed him that the ruling party's extraordinary congress had decided over the weekend to add more requirements of experience for one to be party president.
The extraordinary congress also agreed to expel people who associate with social movements or organisations which differ with the ruling party.
According to sources, a decision was taken that an aspiring politician who wants to be a Swapo president should be a party member for 20 uninterrupted years.
The counting of 20 years starts when the person joins the party's pioneers movement, an arm of Swapo for children between the ages of six and 17.
The new rules state that a party president should be in the central committee - Swapo's powerful 84-member body - for 10 years.
This effectively means that a 21-year-old who wants to be Swapo president will have to wait until they are 41 years or older. It could even be more difficult to be president at 41 since getting elected into the Swapo central committee has mostly been for leaders above 35 years.
Justice minister Sacky Shanghala became a central committee member last year at the age of 40.
The new presidential requirement was tweaked from the initial proposal made to the congress last weekend.
Angula, who made the initial proposals last year during a central committee meeting, defended his action.
"The party is just like any other business if you establish an enterprise. You must build it up. You don't call someone from school to be your general manager. You must gain some experience first," he said yesterday.
He added: "You have to prove yourself. That requires time and knowledge."
According to the draft proposals discussed over the weekend, no party member is eligible for election as Swapo president unless he or she is Namibian by birth or descent.
The person, the proposed changes state, must be a party member for a minimum of 30 years, and should have served in the central committee and political bureau for 10 years.
Sources said the party also amended the initial requirements for politicians who want to be secretary general of the party.
The new rules state that an aspiring secretary general must have served uninterrupted for 20 years, and in addition serve five years in the central committee.
The Namibian understands that the party approved the plan to fire people who belong to an organisation or social movement that does not subscribe to the party's ideology.
The initial draft party constitution discussed over the weekend said membership is open to every Namibian who accepts the objectives of the party, and who is 18 years old.
The document went on to say that the person should "not belong to or support a movement, organisation or entity, regardless of whether such movement, organisation or entity is registered under the requirement of any law, whose aims and objectives are contrary to those of Swapo party as determined by the central committee".
The Swapo central committee would then decide to give the concerned member of the party an ultimatum: resign from the movement, or from Swapo.
"If such member refuses to resign from Swapo party within 23 days after being requested to do so, such refusal shall constitute misconduct, and disciplinary action shall be taken against such member, which might lead to expulsion," the proposed amendment stated.
This clause appears to target Swapo members who sympathise with organisations such as the Affirmative Repositioning movement, which is led by ruling party member Job Amupanda.
Former prime minister Nahas Angula told The Namibian yesterday that the plan to ban people from membership of other movements is tricky.
"It will be presumptuous to think that Swapo is always correct. If you stifle other views, you might not be able to hear other views to help the institution to self-correct," he said.
He said the party should focus on crafting developmental issues, instead of "chasing ghosts".
Angula, however, agreed on adding more rules on who should qualify to be party president.
He said Swapo had become an attraction for individuals who join the party to make money.
"I've been disappointed to see people joining Swapo because of tenders, or putting photos on social media to be seen to get promotions. There are also a number of opportunists," he observed.
He said the party should be careful to avoid being distorted.
"I saw some people fighting to get central committee positions, thinking they will be paid per sitting," he added.
PEACE
Swapo president Hage Geingob (77) said the changes to the Swapo constitution were "living up to the changes in our modern world".
"Because people cannot accept defeat, some comrades decided to go to the courts, which is their democratic right," he noted.
Geingob was referring to the decision by some party members who went to court to challenge the outcome of the 2017 Swapo congress.
"It is unfortunate that following this contestation, we are giving the impression that we are at loggerheads; Swapo against Swapo, and comrade against a comrade," he said.
While he was speaking, Geingob gave Swapo's Oshikoto regional coordinator Armas Amukwiyu, his erstwhile friend, a platform to comment.
Amukwiyu wanted congress to discuss unity in the party.
He said the topic of unity was urgent, and the congress needed to discuss the issue for the good of the party.
"Comrade president, it will be naive and hypocritical of us leaders of this beautiful party to say all is well in the party while we know very well that the party is falling apart at every moment," Amukwiyu said.
However, Geingob rejected the proposal, saying that it would derail discussions of the more important items already on the agenda.
He said if Amukwiyu had wanted the issue to be discussed at the congress, then he should have given three months' notice for it to have been included on the agenda. The president further proposed that the party instead call a different meeting to discuss party unity.
Secretary general Sophia Shaningwa was not available for comment yesterday.