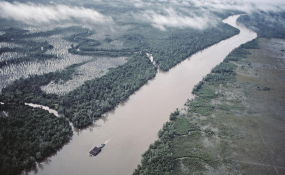 Photo: Shaw McCutcheon/UN Photo
By Romoke W. Ahmad
Ilorin — Nineteen children were said to have drowned in the River Niger when a boat conveying them capsized Saturday in Lafiagi, Edu Local Government Area of Kwara State.
They were going to attend a traditional wedding ceremony in a community in Niger State.
A source yesterday said the boat, conveying about 22 people, mostly children, capsized while crossing the river.
The source said 19 children drowned and died; while two others were rescued.
"As at Saturday evening, four corpses have been recovered from the river. Efforts resumed Sunday morning to ensure that others also are found.
"Both men of the Nigeria Police and the State Fire Service were there yesterday (Saturday) in the rescue mission. Unfortunately, only two of them survived," the source said.
Alhaji Sulyman Aliyu, the Secretary of the Lafiagi Traditional Council, confirmed the incident.
Aliyu said that the number of the victims could not be ascertained yet, noting that there was a conflict in the number.
"Definitely they are up to 12. The figure is between 12 and that 19 that you said", he told Daily Trust.
The secretary also confirmed that four corpses were recovered on Saturday and that efforts to remove others would continue yesterday.
The Public Relations Officer of the Kwara Police Command, DSP Ajayi Okasanmi, also confirmed the incident.
He said officers of the command and other security agencies had joined the local government council to recover the corpses.
He, however, said that the number of the passengers and the victims could not yet be ascertained as the recovery exercise was still ongoing.
Meanwhile, Governor Abdulfatah Ahmed has commiserated with the Emir of Lafiagi, Alhaji Saadu Kawu Haliru over the incident.
The governor, in a statement by his Chief Press Secretary, Abdulwahab Oba, described the demise of the victims as unfortunate and a great loss to their immediate family, the emirate and the state at large.
"I deeply sympathise with the Emir, the good people of Lafiagi and the family of the victims", the governor said.
He urged families of the victims to take solace in the fact that death is an inevitable end of all mortals.
Ahmed prayed God to grant the deceased eternal rest and give the families and the entire Lafiagi Emirate the fortitude to bear the irreparable loss.