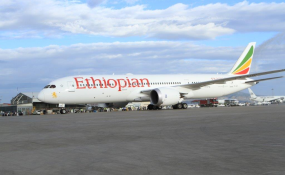 Photo: Ethiopian Airlines
Maputo — Ethiopian Airlines has abandoned its plans to make the northern airport of Nacala the base for its operations in Mozambique.
Back in August, it was announced that Ethiopian airlines would be based in Nacala when it began to operate domestic routes. It has subsequently had second thoughts, and the subsidiary it set up for its Mozambican operations, Ethiopian Mozambique Airlines, is in fact operating out of Maputo.
Interviewed by the independent television station STV, the chairperson of the Mozambican Airports Company (AdM), Emanuel Chaves, admitted that for the foreseeable future Nacala will remain an airport used by only a handful of flights a week.
Nacala is the most modern airport in the country, and was inaugurated by the then President, Armando Guebuza, in 2014. It was confidently predicted at the time that Nacala would become a hub, connecting the Middle East with southern Africa.
But nobody had bothered to ask international airlines if they wanted to use Nacala. None of them did, and from 2014 to the present the only scheduled flights are by Mozambique Airlines (LAM), which flies between Maputo and Nacala twice a week. In addition there are some charter flights, mostly by the Brazilian mining company Vale, which use Nacala.
As a result Nacala is running at a heavy loss. Chaves pointed out that, despite the lack of flights,
AdM still has to pay for the upkeep of the airport, including maintenance, cleaning and electricity costs. These costs are paid out of AdM's cross subsidy policy, whereby the airports that run at a profit (mainly Maputo) subsidise those that don't.
The maintenance costs are in addition to a debt of 200 million dollars incurred from building the airport. The contractor was the Brazilian building company, Odebrecht, and, thanks to the US Justice Department, we know that Mozambique was one of a dozen countries where Odebrecht paid bribes. The bribe paid in Mozambique was 900,000 dollars. It is still not clear who received it, but it is believed the bribe was in connection with Nacala aiport.
While there are few planes landing, the airport hires out its facilities for other purposes, such as conferences and banquets.
Ethiopian Mozambique Airlines has announced that it will be flying from Maputo to Nacala. However, attempts by AIM to book a flight came to nothing.
The other routes being flown by the new airline are from Maputo to Beira, Nampula, Tete, Quelimane and Pemba. Ethiopian claims that on these routes it is offering cheaper prices than its rivals (LAM and FastJet).