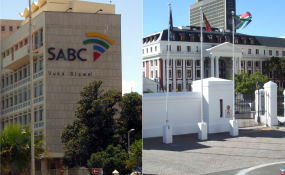 Photo: allafrica.com
analysis
By Marianne Thamm
Newly appointed Minister of Communications Stella Ndabeni-Abrahams reacts after being sworn-in following a cabinet reshuffle by President Cyril Ramaphosa at the Union Buildings on November 22, 2018 in Pretoria, South Africa. (Photo by Gallo Images / Phill Magakoe)
There is a lot of heat and history in the kitchen where the SABC board and new Minister of Communications, Stella Ndabeni-Abrahams, must meet in order to find common ground and an urgent solution to the public broadcaster's imminent financial collapse.
On Monday, SABC board member John Mattison resigned, the second after deputy board chair, Khanyisile Kweyama, did so at the weekend. On Monday night it was rumoured that a third board member was also set to exit.
A serious crisis at the public broadcaster is at hand and is about to reach a spectacular and sad denouement.
But there is a solution.
If only everyone would just stop being so shouty and can the political posturing.
The resignations of Mattison and Kweyama came after an acrimonious meeting between the new Minister, Deputy Minister Pinky Kekana and acting Communications DG Mashilo Boloka and the SABC board on 29 November.
Only a few weeks in the sagging saddle and it has not gone...