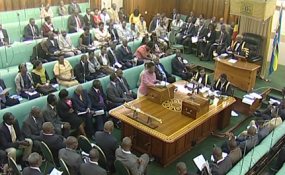 Photo: Uganda Parliament
By Moses Kyeyune
Parliament — Lawmakers on the Natural Resources Committee of Parliament are optimistic that the newly passed law will stamp out pollution as a major target towards nature conservation.
Parliament last week passed the Environment Bill, which seeks to repeal and replace the National Environment Act, to conform to existing environment policies, among others.
Speaking to the press, the committee chairperson, Dr Keefa Kiwanuka (Kiboga South, NRM), on Monday said once assented to by the President, the law will ban the use and deposit of poisonous gases, related fumes and chemicals that have greatly damaged the environment.
Noise pollution, which is defined as the excessive use of loud disturbing sound and voices, will be banned.
"The Act sets up a standard to manage noise pollution, but further amendment can be done to check on the level of noise allowed," Dr Kiwanuka said.
He said local authorities will be allowed to pass ordinances to address the issue of noise within their localities.
Churches, however, remain a no-go area.
"We thought it may be difficult to ask churches to purchase sound proof, just like it is the case in disco halls," Dr Kiwanuka said.
Noise pollution
The committee vice chairperson, Mr Lawrence Biyika Songa (NRM, Ora County), said noise pollution should best be addressed through physical planning to guide the location of the church and discos.
"How can you have a disco hall next to a hospital?" Mr Songa asked.
He added: "We should adopt the ecosystem through planning to know where the road passes, where the churches, schools and discos are put."
This, he said, would help curb the disturbances.
The lawmakers also said the new law created a separate enforcement unit to be placed under the National Environment Management Authority but will be trained by the Uganda Police Force and the UPDF.
Dr Kiwanuka argued that with the law in place, the production, sale and use of polythene bags below 30 microns will be outlawed with a clear legislation.
He argued that the 2009 Cabinet resolution that announced the initial ban on such polythene and polypropylene was defeated due to conflicting interests from various stakeholders on one side, but also the fact that there was no law to effect the ban.
Breach of the law will attract tough penalties ranging from 5-100 currency points for littering and aggravated littering. A currency point is an equivalent of Shs200,000.
"If you are caught littering as an individual, you are fined five currency points and for dumping of huge volumes of waste, a heavier penalty will be imposed," Mr Songa said.