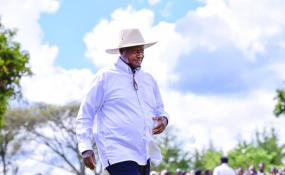 Photo: Yoweri Museveni/Twitter
By Paul Tajuba & Tom Angurini
Kampala — President Museveni has revealed why he delayed to fight corruption in his government, saying he was initially preoccupied with stabilising the country and recovery of the economy that "had collapsed" in the hands of his predecessors.
"We restructured the army but the civil service remained the way it was, the Judiciary remained the way it was, the school system remained the way it was. We inherited them [in 1986 when I became President]," Mr Museveni said yesterday in Kampala during celebrations to mark 25 years of existence of Transparency International, a global body engaged in fighting graft.
The President said his government also feared "political isolation" had it started fighting corruption much earlier but promised to tell the country on Monday how he intends to defeat the vice that has left his government disgraced.
"We have given enough time for civil servants to expose themselves because had we moved against them at that time, first we did not have the capacity, but secondly, we would have been politically isolated, people would have thought we are persecuting them but I can tell you today, the whole population is fed up with these corrupt people.. Civil servants can no longer blackmail us politically that if you touch me, people in my area will vote against the NRM, no," Mr Museveni said.
He noted some milestones in education that he hopes will fight graft.
"In 1986, the adult literacy rate of Uganda was 23 per cent, now it is 75 per cent almost going to 80. Makerere [University] would graduate 1,000 people per year, the university now is graduating maybe 50,000 per year so the catchment area to replace these crooks is very big. We can no longer plead for any one," he added.
Bigger problem
Mr Museveni said initially, corruption was a minor problem and he first had to stop extra judicial killing, which had claimed at least 800,000 people since 1960s until he came to power.
"Even if we had the manpower and replaced the civil servants, it would have created a political problem because civil servants have families. If we had dismissed them en masse, it would have been a big problem for us because everybody would ask why are we persecuting them," he added.
Mr Museveni, however, admitted that he made blunders when he introduced elective positions at lower government thinking they would fight the corrupt, who have instead joined the cartel. "When all this corruption was happening, my miscalculation was I think this is happening because these civil servants are not elected. If the people elected their own person, he would fight this corruption," he added.
However, Mr Wafula Oguttu, a former Leader of Opposition in Parliament, who was awarded by Transparency International Uganda for his role in the fight against corruption, said the President was not being truthful.
"The President has been here for more than 30 years, he has forgotten that he chased civil servants in 1992 and the word he used was retrenchment," Mr Wafula said.
"In any case, a civil servant who was there when NRM came to power in 1986, if he was 30 years, he is now retired. How can it be the same corrupt civil servants who are corrupt today? All these civil servants have been recruited by NRM," Mr Oguttu said.
He proposed that government starts lifestyle audit, where an individual's wealth accumulation can be matched with his or her earnings.
Ms Delia Ferreira Rubio, the chairperson of Transparency International, urged governments to allow anti-corruption agencies work without interference.
Graft cases
In October, the Inspector General of Government (IGG) released a report which named abuse of office and theft of government funds and assets as top cases the office investigated between July and December 2017. Of the 1,399 new cases received in that period, the IGG said abuse of office topped with 284 cases, followed by corruption (187), embezzlement (107), misappropriation (99), forgery (79) and audit queries (54).
Influence peddling was the least reported case with only one complaint, followed by causing financial loss, and extortions with 12 complaints each.
[email protected]