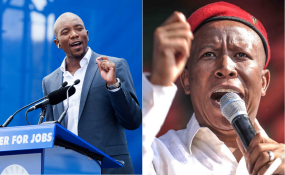 Photo: allafrica.com
You may have thought the EFF's spat with Vodacom was over after the two organisations kissed and made up during a meeting on Tuesday but it seems the matter just won't go away.
If, for the past five days, you've been under rock (or unable to catch up on the news due to load shedding - thanks Eskom) a number of Vodacom stores were damaged and vandalised, allegedly by EFF members after veteran ANC politician and Corruption Watch chairperson Mavuso Msimang criticised the party during an awards ceremony.
Speaking at the Vodacom Journalist of the Year ceremony last week, Msimang - using an image of EFF leaders Julius Malema and Floyd Shivambu to illustrate his point - said the party's behaviour was "nothing if not a blatant abuse of democracy".
Msimang's speech - which centred on the advances and abuses of democracy in South Africa - made mention of other individuals and organisations, but it's the reference to the EFF which has got critics and supporters of the party talking - and even days later some high-profile leaders and commentators are still working their thumbs on Twitter, tagging, replying and retweeting.
On Wednesday, Malema and Mmusi Maimane, the DA's leader, had people grabbing for their popcorn as the two politicians tried to get one up on each other over Vodacom's response to the fracas.
Maimane kicked it off by responding to a tweet by former editor Barney Mthombothi, in which the columnist slammed Vodacom for "[r]ewarding thuggery".Malema then entered the fray.
But instead of a juicy twar, the interaction lasted no longer than four tweets.
Source: News24