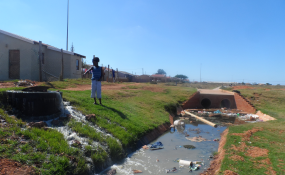 Photo: Joseph Chirume/GroundUp
analysis
By Rebecca Davis
For years, scientists and Capetonians living near the Kuils River have expressed concern that the sewage flowing into the river from a nearby waste water treatment plant is both an environmental and health hazard. Researchers now say that the health consequences of the contamination are growing ever more severe: from people suffering E.coli poisoning of the intestine, to horses born without back legs.
"Apocalyptic" is one word that Professor Lesley Green uses to describe the experiences of people living alongside Cape Town's Kuils River.
Green, the deputy director of Environmental Humanities South at the University of Cape Town, is deeply concerned about the impact that the decades-old Zandvliet wastewater treatment works is having on the environment around the lower Kuils River.
In an op-ed published on Daily Maverick, Green and four other local and international researchers write that "the citizens of Sandvlei along the Kuils River below the discharge point [from the Zandvliet facility] are suffering an array of medical complaints so severe that they have resulted in surgical...