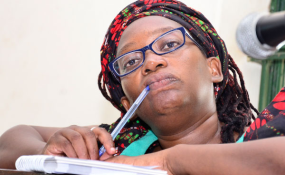 Photo: Alex Esagala/Daily Monitor
By Betty Ndagire
Kampala — The trial in which Makerere University research fellow Dr Stella Nyanzi is accused of harassing the President Yoweri Museveni, has flopped.
The matter was scheduled for hearing on Monday. However, court heard from the presiding magistrate, Mr Robert Mukanza, that the trial magistrate, Ms Gladys Kamasanyu is indisposed.
This prompted Mr Mukanza to further remand Dr Nyanzi until December 19, when the hearing is expected to resume.
A number of political activists including Dr Kizza Besigye flooded court to show solidarity with Dr Nyanzi.
Dr Nyanzi is charged with cyber harassment and offensive communication which contravene sections of the Penal Code Act.
On November 9, Dr Nyanzi declined to apply for bail. However, Mr Isaac Ssemakadde, told court that his client wanted the state to speed up the investigations, to enable her go through the trial.
Upon taking plea denying the offences, Dr Nyanzi dared Mr Museveni to show up in court and pin her.
"I don't understand how Yoweri Museveni has been offended by my Facebook posts. I would like him to testify to the extent of offence I have put upon him than my mare writing. I would like to see him testify and look me in the eye and say, Stella Nyanzi you offended me, I read Facebook posts and I find them offensive," Dr Nyanzi said. "... when I am writing, I write at large. So given the fact that I don't know how aggrieved or offended Museveni is, I would like him to come and show me my guilt. These are trumped up charges intended to waste court's time."
Dr Nyanzi said she is a critic of the regime who writes about diverse forms of "oppression" the President has subjected to Ugandans.
She said: "I find it ridiculous that my writing about Esiteri at large supposedly, a dead woman is offensive to a person who gives a range of orders that affect the lives of many Ugandan. He is claiming offence over what? The wishes of the people that I post on Facebook are they much more that the incriminating human rights record against the President."
Dr Nyanzi said that her writings are the wishes of an oppressed woman adding that as a writer, who uses metaphors; she speaks for "very many Ugandans who have wished death" on those who oppress them.
Prosecution contends that on September 16, Dr Nyanzi posted on her Facebook page suggestions deemed obscene against, Esiteri, the deceased mother of Mr Museveni.
It is alleged that she also repeatedly posted messages to disturb or attempted to disturb the peace, quiet or right to privacy of the President. This is the second time police have arrested Dr Nyanzi on allegations of abusing President Museveni and his family.
According to Section 25 of the Computer Misuse Act 2011 on offensive communication, any person who wilfully and repeatedly uses electronic communication to disturb or attempts to disturb the peace, quiet or right of privacy of any person with no purpose of legitimate communication whether or not a conversation ensues commits a misdemeanour and is liable on conviction to a fine not exceeding twenty-four currency points or imprisonment not exceeding one year or both."
Twenty four currency points is an equivalent of Shs480, 000.