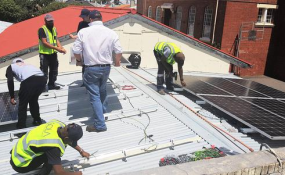 Photo: Supplied
analysis
By Christi Nortier
A group of 10 Khayelitsha students have become eco warriors and eco leaders. In the first week of December the students graduated from a year-long programme run by Project 90 by 2030, which taught them about renewable energy. Part of their graduation saw them hand over a solar panel to Salt River Secondary School, which has a group of budding eco warriors. It is hoped the solar panel will bring clean and cost-effective energy to the school while inspiring younger eco leaders.
Although kilometres apart, two groups of students -- one in Salt River and the other in Khayelitsha -- kept a brave face when their friends told them that they were uncool or paranoid for caring about the environment. It seemed fitting then that the two groups of young eco-warriors were brought together through the passing of a gift -- a solar panel for a school roof -- from the one to the other.
A group of 10 Khayelitsha students has been on a...