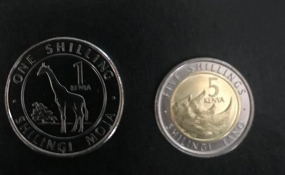 Photo: Daily Nation
By Evelyne Musambi
Kenyans online wish the Central Bank had prioritised introducing new notes over the new generation coins.
They argue that the introduction of new Sh 1,000 notes (and retiring the old ones from circulation) would have exposed beneficiaries of corruption who have stashed millions in hard currency in their houses.
Police raids during arrest of corruption suspects has often led to seizure of vast amounts stashed in houses.
Some Kenyans gave the example of India which in November 2016 announced the issuance of new banknotes in exchange of old ones to reduce the use of illicit and counterfeit cash. (Economists have however declared India's experiment as unsuccessful because the "black money" went back into circulation).
Kenyans online however still believe that an introduction of new Sh1, 000 notes would have helped in the fight against corruption.
Here are some of their thoughts.
CBK Governor ought to invoke Section 22 of Central Bank Act & retire all Currency Notes Of Kshs. 500/= & Kshs. 1,000/= ... Holders of the notes should be given One Week to return to CBK for a Bearer Certificate pending issuance of new notes. We'll be SHOCKED .. #NewCurrencyKE
- Donald B Kipkorir (@DonaldBKipkorir) December 11, 2018
All that CBK needs to do is make the old currency invalid in 30 days, and require replacement through banks. All money hidden by tenderpreneurs and politicians in gunias will get obsolete.
KRA will be watching.
#NewCurrencyKE
- Jacob Mugendi (@mugendij) December 11, 2018
Instead of unveiling new generation coins, the president should declare null & void all 1K notes in circulation and recall to be exchanged with new ones.
That way we shall see real drama... . #NewCurrencyKE #MtuWetuNonsense
- Ahmed Mohamed ((ASMALi)) (@Asmali77) December 11, 2018
I wish president @UKenyatta would have used the opportunity to make a statement on the fight against #corruption by recalling all the 1k notes & give two weeks notice to have all returned to @CBKKenya. Maybe a fresh start on corruption would have began in #Kenya #NewCurrencyKE https://t.co/dThWXbaZIc
- Hillary Onami (@HillaryOnami) December 11, 2018
#NewCurrencyKE CBK should face out not just coins but notes starting with the 1000 note. #Kriminols have hid money in bags.
- Kuria Mwaniki (@gkuria01) December 11, 2018