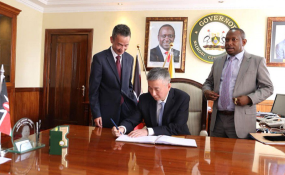 Photo: Nairobi News
By Nyaboga Kiage
Nairobi Governor Mike Sonko now wants Chinese experts to assist him in dealing with the Nairobi's traffic menace.
The governor met with experts from the Shanghai Municipal Engineering Design Institute at his office on Tuesday where he made the request for their expertise.
"The group led by Chairman Zhou Jun and Assistant President Zheng Zhimin expressed willingness to partner with my administration to help in implementing the programme of decongesting Nairobi's CBD as well as being incorporated in our urban renewal plan," Sonko said.
Nairobi's notorious traffic jams has been a headache to the county government.
Last week, Sonko tried to stop Public Service Vehicles (PSV) from accessing the CBD only worsened the problem.
Three years ago, former Naiorbi Governor Evans Kidero also failed in banning PSV's from the city.