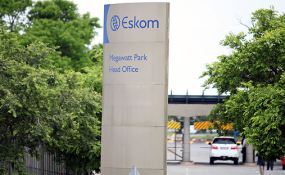 Photo: EskomSouthAfrica
analysis
By Marianne Merten
Load shedding. That's the stark public reminder of the dire straights Eskom finds itself in. Whether the recent rolling power outages were because of unexpected breakdowns, or were the stick Eskom used to hit home the need for a government bailout, depends on who is asked. But that in itself raises deep concerns over the series of contending interests at play. And if that's the case, South Africa is in a whole lot more trouble than previously dreaded. Eskom may yet break the public purse.
In July 2018 the ANC mooted the idea of the state-owned asset manager of R2-trillion of government workers pensions and social savings, the Public Investment Corporation (PIC), taking over R120-billion of Eskom debt as equity to ease the debt burden. According to ANC Treasurer Paul Mashatile it was part of discussions to get the economy right for growth and job creation.
"If you look at Eskom the debt is seriously high," Mashatile...