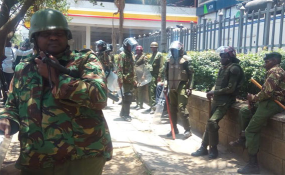 Photo: Capital FM
By Wycliff Kipsang
Inspector General of Police Joseph Boinnet has defended the police killing of civilians in Kwanza, Trans Nzoia County, but the Independent Policing Oversight Authority (IPOA) has launched an investigation.
The shooting took place at Kolongolo village on Sunday. A police officer killed two people but reports indicated that three other people succumbed to bullet injuries later in the day.
SELF-DEFENCE
In a statement on Monday, Mr Boinnet put the number of the dead at two and said the police officers opened fire as they were in danger.
He said the police officers acted in self-defence after more than 100 people confronted them.
"The crowd became irate, forcing one of our officers to fire in the air to disperse it but this was to no avail. In the ensuing melee, the suspect, who had already been handcuffed managed to escape," Charles Wahongo explained in the statement on behalf of the IG. Mr Wahongo is the Director of Communication Services in the National Police Service.
"The crowd then descended on the two police officers with stones and other projectile, hitting the officer who was armed to the ground, while they attempted to snatch his rifle from him."
Mr Boinnet said that this prompted the officer to shoot, injuring two men, an event after which they fled to the patrol base.
He urged the Independent Policing Oversight Authority to investigate the matter.
IPOA'S POSITION
In its statement on Monday, the IPOA said it had dispatched officers to collect key information as part of investigations.
Chairperson Anne Makori said the number of those killed had not yet been determined.
"Our initial investigation revealed that on the fateful day, police officers were dispatched to effect an arrest in the Kolongolo, leading to an alleged confrontation between civilians and members of the National Police Service, resulting in a fatal shooting and serious injuries," Ms Makori said.
"We've launched investigations [to unravel] the circumstances that led to the fatal shootings and injuries, and more particularly whether the police officers were justified in the use of their firearms."
The chair said that if officers are found culpable, the IPOA will ensure they are appropriately punished.
DEMANDS
The incident took place at about 4pm when three police officers responded to reports of a domestic dispute. When they reached the home, a scuffle ensued as man resisted arrest and his friends protested the manner in which police handled him.
Leaders including Devolution Cabinet Secretary Eugene Wamalwa and Trans Nzoia Governor Patrick Khaemba have demanded action against the police officers.
Mr Wamalwa said Mr Boinnet told him he is taking the matter seriously.
"He has sent a team to investigate the circumstances under which the shooting happened ... immediate action will be taken on all those involved, including his officers," he said.
He spoke at Mediheal Hospital in Eldoret, where he visited Trans Nzoia County Assembly Speaker Joshua Werunga, who was injured in the fracas.