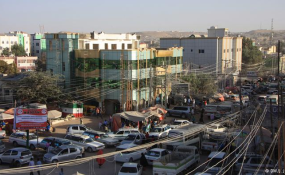 Photo: Deutche welle
Shamsudin Ahmed Roble is now the new Ethiopian consul to Somaliland, Radio Dalsan has learnt.
Roble who had served as Ethiopian diplomat in Kenya and Djibouti is expected to take over anytime although the announcement is yet to be made public.
Roble hails from the Ethiopian-Somali region.
PM Khaire Meets Speaker Mursal Over Farmaajo Impeachment Motion Stalemate
Canadian Think Tank Sahan Banned In Somalia Over Head's Critical Comment On Robow Arrest
Enough is enough: A single picture can teach Farmaajo how to deal with political differences
Landlocked Ethiopia and breakaway region of Somaliland have had close links in trade with Addis import mainly coming through the port of Berbera which it recently took 19% of its share.
The new envoy replaces the former ambassador Berehe Tesfaye who had been the resident diplomat in Hargeisa for more than a decade.