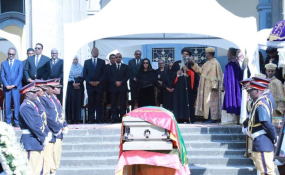 Photo: Ethiopian News Agency
Addis Ababa — Thousands of mourners gathered in Addis Ababa to pay their final respects to former president Girma Woldgiorgis, who laid his body to rest today at the Holy Trinity Cathedral.
The state funeral in the capital was attended by hundreds of dignitaries including Prime Minister Abiy Ahmed, President Sahle-work Zewde and other high-level incumbent and former officials.
Former President Girma Woldegiorgis, who was praised for his enormous contribution in environmental protection, has died last Saturday two weeks short of his 95th birthday.
The House of People's Representatives has declared a national mourning day on December 19, 2019 as a mark of respect to the former President Grima.
A 21-gun salute is fired to tribute the former President, who served the country for 12 years in presidency.
National Flag flown at half-mast all over the country including in Ethiopian Embassies and consular offices as well as Ethiopian owned ships during state of mourning today.
Born on 28 December 1924, Girma became president of the Federal Republic of Ethiopia in 2001.