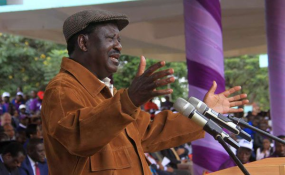 Photo: Jeff Angote/Daily Nation
By Faith Nyamai
Opposition leader Raila Odinga on Thursday termed corruption the major contributor to inequality in the country.
Mr Odinga accused the Judiciary of failing to fully support the government in the war against corruption.
"It's unfortunate that the Judiciary has not been helping Kenya as a country to fight corruption in our systems. We have seen people being arrested and taken to court where evidence is presented but our courts end up releasing these people on bail," he said.
The opposition leader said that if the country is to bridge the inequality gap, then justice can only be a shield and defender if there is democracy.
He said that if the youth are empowered, they will be able to participate in wealth creation and will bridge the inequality gap.
DEMOCRACY
Mr Odinga challenged universities to empower the youth with skills that will enable them to stand out.
He was speaking at the University of Nairobi where Ford Foundation president Darren Walker gave a public lecture on "Bridging the Inequality Gap in East Africa".
In his lecture, Mr Walker said one of the challenges of democracy is the growing inequality in Africa, and called for civil society collaboration with the government to ensure that the youth, the disabled and the less fortunate are not left out in terms of development.
"Societies with growing inequalities are societies with growing hopelessness, the greatest danger to democracy and a society is hopelessness," he said.
GOODWILL
Mr Walker asked universities and other tertiary institutions to develop an education system that is generative to enable students create business after graduation and enable them to empower the society.
"Young people have to believe first and foremost in themselves and receive support from the respective organisations, including the government," he said.
Mr Walker said the government must receive the necessary support from the civil society and the relevant institutions in dealing with corruption.
Former Chief Justice Willy Mutunga said that to fight inequality and bridge the gap, the government must fight all forms of corruption.