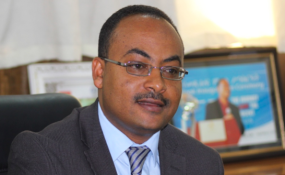 Photo: Big Win Philanthropy
Big Win Philanthropy has announced that Dr. Kesetebirhan (Kesete) Admasu, former Minister of Health of Ethiopia, has joined the organization as Chief Executive Officer. He succeeds Dr. Muhammad Ali Pate, who served in the role for three years from the organization's founding in 2015, after previously serving as Minister of State for Health in Nigeria.
Big Win Philanthropy Chair and President Jamie Cooper said: "Both Kesete and Muhammad epitomize the type of leader we seek to support—strategic, driven and truly committed to improving the lives of children and expanding opportunities for young people. They have walked in the shoes of the government ministers with whom Big Win partners, and they have left lasting legacies for their countries and for the continent. Big Win is very fortunate to have secured such talented leadership at the helm as we establish our approach and build the organization to have the greatest impact."
Speaking of his decision to join Big Win, Dr. Kesete noted: "Big Win is unique in its approach as it partners with leaders to advance ambitious agendas that improve the lives of children and young people. I am a firm believer in Jamie's vision of creating a platform that supports leaders to clearly articulate their legacy goals and provides mission critical technical support to effectively deliver on them."
"I know from experience that in government you need a reliable partner to call on when you get stuck trying to advance strategic priorities," Dr. Kesete added. "Big Win is filling this vacuum that is often overlooked. It is not the size of investment but the quality that matters the most."
Dr. Pate, who is returning to Nigeria, also highlighted Big Win's unique approach as the factor that prompted him to join the organization three years ago: "At the core of Big Win's approach is that national governments should own their countries' development agendas. It may sound obvious, but this approach differentiates Big Win from many other platforms, which are often focused on their own vision and priorities for other nations' development. It has been an honor to work alongside Jamie to support visionary national leaders to deliver on their bold aspirations for their countries' children and youth."
The leadership transition from Dr. Pate to Dr. Kesete follows a prior partnership and close working relationship between the two leaders. During Dr. Pate's tenure as CEO, Big Win partnered with Dr. Kesete in his capacity as Minister of Health to deliver on the Seqota Declaration, a bold commitment by the Government of Ethiopia to end child undernutrition in the country by 2030. "Big Win's support from the outset in conceptualizing this movement, setting up delivery units at the federal and regional state level, financing the baseline assessment, and supporting the establishment of community labs was invaluable," Dr. Kesete said. "It illustrates how Big Win's approach to making catalytic investments can have outsized impact."
As Dr. Kesete takes the reins this month, he will focus on consolidating and expanding Big Win's philanthropic investment portfolio and pursuing strategic partnerships with likeminded funders to help change the status quo of how government programs are funded and delivered.
About Big Win Philanthropy
Big Win Philanthropy partners with visionary African leaders to achieve transformational change for their countries by investing in three key areas essential to national development and long-term economic growth: brain development, education for productivity, and youth employment.
Big Win's board and team includes former African ministers, senior government and multilateral officials, and senior people from the private sector with extensive experience spearheading and implementing transformative reforms.
Big Win Philanthropy is an independent foundation in the United States and a registered charity in the United Kingdom.
About Jamie Cooper
Jamie Cooper is founding Chair and President of Big Win. She has more than 20 years' experience in bringing private sector, government and non-profit leaders together to pursue innovative policy on economic and social issues. She previously co-founded the Children's Investment Fund Foundation (CIFF) and served as its President and CEO. Prior to co-founding CIFF, she served as Co-Director of SHINE, a grant making trust focused on raising the attainment of children from low income homes in England. She has been highlighted by Barron's as one of "The 25 Best Givers," an impact-based ranking of global philanthropists.
About Dr. Kesetebirhan Admasu
Dr. Kesetebirhan (Kesete) Admasu joins Big Win as CEO after serving as CEO of the RBM Partnership to End Malaria. He served as Minister of Health of the Federal Democratic Republic of Ethiopia from 2012 - 2016. Prior to his appointment as Minister, Dr. Kesete served as State Minister for the Health Programs and Director General of the Health Promotion and Disease Prevention General Directorate in the Ministry. In his capacity as Director General, Dr. Kesete oversaw health sector reform and led the implementation of the country's flagship Health Extension Program (HEP), which improves the quality and availability of primary health care services through community-based health workers. He has held a number of prominent positions within regional and international organizations in the health sector, including serving as Chair of the World Health Organization (WHO) Regional Committee for Africa, Chair of the Intergovernmental Authority on Development (IGAD) Ministerial Committee on Health, and Member of the Board of Gavi, the Vaccine Alliance. In recognition of his contribution to reproductive health, he was selected as a 2016 Winner of "120 Under 40," an initiative organized by the Bill & Melinda Gates Institute for Population and Reproductive Health.
About Dr. Muhammad Ali Pate
During his tenure as CEO of Big Win, Dr. Muhammad Ali Pate helped to lead the development of the organization's investment portfolio. Prior to joining Big Win, he served as Minister of State for Health of the Federal Republic of Nigeria from 2011 - 2013. He led the successful Presidential Task Force on Polio Eradication in Nigeria and developed the results-based initiative Save One Million Lives. He has received the Geneva Health Forum Award 2014 and Harvard Health Leadership Award 2012.
For further information, visit www.bigwin.org