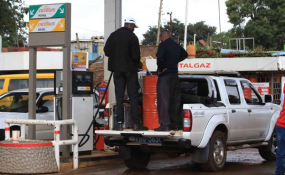 Photo: Joseph Kanyi/Daily Nation
By Patrick Alushula
The Energy Regulatory Commission (ERC) has cut the price of diesel to a 13-month low, offering hope for lower transport and machine operations costs.
In Thursday's price review, a litre of diesel in Nairobi will now retail at a maximum Sh95.96, following a Sh6.28 cut. This price was last seen in January last year when it retailed at Sh94.82.
The ERC also slashed the price of super petrol by Sh4.12 per litre, meaning that in the capital city, the maximum price will now be Sh100.09. This is the lowest cost since September 2017.
The two fuels will be retailing at prices below those before the increase witnessed in September last year after introduction of Value Added Tax.
Households that depend on kerosene for cooking and lighting have also been handed a relief after the price reduced by Sh5.20 per litre in Nairobi.
"Changes in this month's prices are as a result of the average landed cost of imported super petrol, diesel and kerosene decreasing by 7.23 percent, 11.29 percent and 3.92 percent respectively," said ERC.
This was despite the Free On Board (FOB) price of Murban crude oil lifted in January being at $60.95 per barrel, an increase of 2.44 percent from $59.50 per barrel in December last year.
The price drop was also supported by the fairly stable shilling, according to the regulator.
"Over the same period, the mean monthly dollar to shilling exchange rate appreciated by 0.84 percent from Sh102.16 per dollar in December to Sh101.30 in January 2019," ERC said.
The drop in fuel prices is expected to filter through almost all the other sectors of the economy due to the transport factor in pricing of goods and services and lead to reduced inflation.