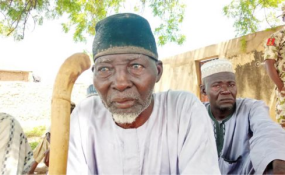 Photo: Daily Trust
interview
Eighty-year-old Muhammad Dan-dudu, is a blind well digger in the ancient town of Fika in Yobe state, in this interview with Kanem Trust, he spoke on the hazard and mystery of well digging as an occupation as well as its challenges in recent times.
When did you start digging wells?
It all started about 39-years-ago, when my uncle bought a new cap on Sunday. Unfortunately, the cap fell into a deep well on Monday. He searched someone that could remove it from the well but all the available well diggers in town refused because of the depth.
I noticed that he was very worried and decided to take the risk. I asked my friends to tie me with a rope and drop me inside. The well was 48 yards and lucky enough, I removed the cap successfully and my uncle was so excited. Since then, I conquered my fear and it later became an occupation for me.
You projected that in the near future well digging would cease to exist as an occupation, what are you reasons?
My reasons are very clear because, you can't find a well digger in the town today. Even if you get one, he will disappoint you because some people will just collect your money and start the digging knowing very well that they cannot finish the job. I want to you to know that Fika is one of the areas in Yobe that has a very low water table. Sometimes one has to dig up to eighty yards before one can reach the water table. It takes a very resilient person to punch water in our terrain.
Digging up to 80 yards is scary, doesn't that scare you?
Not at all, I always take it as a challenge each time someone asks me to dig a well for him. I can go into contract with you and come back to tell you that I can't get it done.
At times you will dig to a reasonable stage and discover a hard rock that cannot be crushed with a simple tool, even at that you must move to the other side and try another luck because getting the job done would attract more customers to patronise you and failure meet up with the challenge could mean otherwise.
Has anything scared you in this profession?
No, nothing has ever scared me but I saw many mysterious things in the course of doing the job. Many at times, I used to see giant snakes with red necks or toad that is bigger than my head in the well. Surprisingly, you wouldn't find them when you come the next day. But I do continue with my job. For once, that has not deterred me. All I know is that I am fending for a living and God will protect me. But, I always avoid doing anything that would provoke them.
But, many people believed that you are using charms to subdue these mysterious creature, is that true?
Yes, we use to do what we call, "Kisan baki". It is a protection prayer that we offer each time we want to enter the well. Also, apart from the mysterious creatures, there is a lot of heat as you dig down. You would be suffocated if you don't apply some medicine.
Don't you think that this blindness has something to do with the well digging?
Of course yes, there was a time I encountered a very big snake in one well at Alaramma village. The mysterious snake hissed at me but I continued with my digging. Suddenly it released venom into my eye. I rushed out of the well and applied a medicine. I also met a man who prayed for me and my vision got restored. After many years, the eyes started disturbing me again and I later turned blind.
Though, not only the venom of the snake, even the heat in the well can make one to go blind, because I used to feel it in my eyes each time I came out of a hot well. At time I must go to the forest and get a fresh air.
What other hazards did encounter?
Actually we face a lot of hazards in this job, sometime a heavy tool like digger or bucket filled with sand could crash from the top and drop on you. If you are not so lucky, it would fall on your head. I thank almighty God that it has never fallen on my head but I sustained three serious wounds on my shoulder, back and waist. I can never forget the day I slipped up while trying to enter a well, I never thought that I would live to see this day. God is wonderful.
When last did you dig a well?
The last time was when the community well was to be dug and it was too difficult, I was already blind then, so I called one of my labourers to help me. Fortunately, we found water for the community successfully.
As a blind man, how were you able to do it?
It's something am very used to, so I just found myself doing it without any stress, though not as fast as before.
What is your family size?
I have six children and three wives, the pain I am going through now is that I cannot see, and the only job I specialised in is no longer needed. People are no longer patronising me.
What is the future of well digging occupation now?
It's fading away over time, with boreholes being drilled all over, the water level is going down, no human strength can meet that challenge. Because the deeper you go in the well, the hotter. So you either abandon the job or you suffocate inside the well and die.