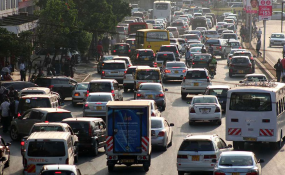 Photo: Dennis Onsongo/Nairobi News
opinion
By Alex Tito
The national and Nairobi City County governments have unsuccessfully tried to decongest Nairobi's central business district and attain free traffic flow.
They should explore workable solutions, not the trial and error measures.
Practising professionals and consultants in the city centre and the many driving employees and clients they pull into the CBD hugely increases traffic.
For instance, when the courts are in recess, traffic within the city centre declines and vice versa. How about giving incentives to these professionals to relocate to the fringes of the CBD?
Students attending school on the other side of the city -- like a child in Eastlands going to school in Westlands -- are bound to increase traffic.
In Texas, USA, schools do not admit children who live beyond a particular radius around the school's locality.
SECURITY
Insecurity, whether real or perceived, also has an adverse effect on traffic. Motorists tend to use routes that they assume are safe.
For instance, in the evening, it takes one to two hours to drive from Westlands to Airport North Road or JKIA on Mombasa Road.
But it can take one 30-45 minutes by using Prof Wangari Maathai Road (formerly Forest Road)-Ring Road Ngara-General Waruinge Street into either Eastleigh (Juja Road), Majengo or Shauri Moyo, or alternatively Landhies Road-Jogoo Road, and finally Outering Road.
Better still, one can use Thika Superhighway and Outering. There is also the effect of poorly done and incomplete roads.
For example, the Bunyala Road section between Lower Hill Road and Mombasa Road was to be expanded but the contractor abandoned it at the Masaba Road junction.
Across Mombasa Road, the contractor doing an overpass at the Likoni Road-Enterprise Road junction has been on site for ages.
OPEN UP ROADS
The government ought to recarpet all major roads within and outside the city, attain free traffic flow along Uhuru Highway, Haile Selassie Avenue, Ring Road, Murang'a Road, Prof Wangari Maathai Road and University Way, set up parking lots and matatu termini on these roads and identify areas of heavy human traffic and the possibility of light rail transport use in those areas (such as Industrial Area).
It should consider opening up the two roads between Nairobi River and Kirinyaga Road that run from the Globe Cinema roundabout through Grogan to Racecourse Road.
The roads are not easily accessible, having been converted into garages. It should also close the matatu termini on Tom Mboya Street and Old Nation roundabout (Tom Mboya Street-Murang'a Road-River Road junction).
Besides, prohibit PSVs from parking in CBD streets, which should be restricted to a few slots per sacco or company at a time to free up space for private vehicles.
By attaining free traffic flow along the identified roads, one can move around Nairobi without affecting CBD or inbound traffic.
TERMINI
It is important to address the following junctions or roundabouts: University Way-Uhuru Highway; Kenyatta Avenue-Uhuru Highway; Haile Selassie Avenue-Uhuru Highway; Moi Avenue-Haile Selassie Avenue; Haile Selassie Avenue-Ring Road-Landhies Road-Jogoo Road; Jogoo Road-Lusaka Road; and Ring Road-Racecourse Road. Inter-changes, overpasses and underpasses would do.
The free traffic flow created on these roads would be the official route for the bus rapid transit buses (BRT ought to move around the city and not to and from estates; the latter should be left to private investors).
It is on these roads that termini and parking lots would be set up.
The new parking lots would charge fees at 10 percent of the city centre charge (say Sh200 against Sh2,000 in the CBD).
All major roads into Nairobi access the city centre through the identified roads.
PARKING BAY
The government can, therefore, enter into an arrangement with Kenya Railways (or acquire part of its land) to set up multi-storey parking bays on the section within Haile Selassie Avenue, Uhuru Highway and Bunyala Road.
There is heavy human traffic into and out of Industrial Area, mainly through the CBD, to residential areas.
There exists an elaborate railway system in Industrial Area which was used for delivery of goods to and from factories.
How about reactivating the rail for passenger trains? These suggestions may appear to concentrate more on the lower part of Nairobi.
That is because Nairobi's traffic challenges emanate from there and the area is highly populated; the upper part of Nairobi is well-networked, has a lower population and has ongoing new road projects.
Mr Tito, an accountant, is the group finance and administration manager, HighChem Group, and lives in Nairobi. [email protected]