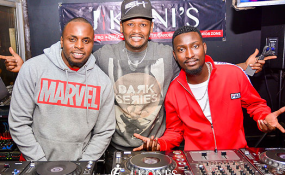 Photo: Nairobi News
By Charles Lwanga
Kilifi hotel and bar owners have protested the implementation of a law regulating noise pollution by the county government and National Environment Management Authority (Nema).
They say the 35-decibel limit set for noise at their facilities has left them with fewer customers.
The county is implementing the Environment Management and Coordination Act, which stipulates that no one should make loud noises or use amplifying equipment that affect the public.
Early last month, Environment Chief Officer Maryam Jeneby warned hotel and club owners that they risked being fined Sh5 million or being jailed for four years, or both, for breaking the law.
BEACH PARTIES
But speaking during a stakeholders' forum in Malindi organised by the county government, the business owners appealed to the county assembly to enact laws that are applicable to the local environment.
Paparemo Beach Club general manager Jackson Maina said beach parties are organised in the open, and it is impossible to control the noise in such circumstances.
"Because the county is keen on the 35-decibel limit, we are losing a lot of revenue. We have stock and staff to pay, and we will be killing tourism. We urge the county government to consider reviewing the noise level," he said.
Also, Rosada Beach Resort general manager Anjela Chisemwa said many tourists and revellers had cancelled bookings due to the low volume of music and impromptu raids by Nema officials.
"Since the patrols started, tourists have been avoiding our premises," she said.
CONTEXT
Ms Chisemwa said Coast tourism depends on the beach, where it is difficult to regulate sound. "It is easier to control such noise in enclosed places like clubs; but how about in the open, where the music is competing with the noise made by the sea and strong winds?"
Mr David Kubasu, a bar and restaurant owner, said: "We are borrowing laws formulated in Nairobi without considering our specific circumstances. We cannot assume laws applicable in Kiambu County are applicable in Kilifi."
Mr Kubasu said sound proofing premises, as suggested by Nema and county officials, would be too expensive since it means constructing walls and roofs for the beach structures.
But Ms Jeneby said the business owners have to comply with the law. "When we talk about noise pollution, it is anything that produces noise and it doesn't matter whether it is a hotel, a bar or a religious event.
"But before applying the law to religious events, we need to sit down with them and inform them about the acceptable levels of noise," she said.