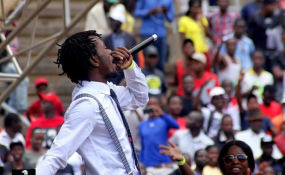 Photo: Enzo Ishall/Instagram
Dancehall singer of the moment Enzo Ishall will take his art to Bulawayo where he is expected to perform. The musician is famed for his hit "50 Magate" that has been making rounds in dancehall circles across the country and even beyond.
The musician stole the limelight with "Kanjiva", which is still one of the best songs in the dancehall scene for the past year.
In Bulawayo, Enzo Ishall will perform with Kiky Badass who is expected to thrill the audience with "Magate" dance. The show will take place at Cosmopolitan Club that was formerly known as Club Eden.
One of the show organiser Dee Nosh said all is set for the event and they will make sure that the "Magate" combination leaves a lasting impression in Bulawayo.
"We know that people enjoy the song '50 Magate' especially when the dancer is on stage. She will be there with Enzo and it is going to be an exciting show. We have done well to bring them together because they are an amazing combination," said Dee Nosh.
"The show will bring him together with his fans in Bulawayo. People have been asking for his shows in Bulawayo and we are taking him to the people. We want everyone to have fun at the show. We want some people to meet Enzo for the first time. We want it to be a memorable show. This show has to leave a mark in Bulawayo."
Enzo is working on a new single that he has been sampling at his shows at it will be the first time for people in Bulawayo to feel the new vibes.
He is also planning a nationwide tour that will take him to other parts of the country where fans have been clamouring for his live shows since he went on limelight in the dancehall arena.